Drawing with masking fluid enables contemporary artist Cathy Read to reflect city life in all it's glory in her urban landscape paintings.
From ground breaking designs of cutting edge architecture to the decaying remnants of a glorious past, all are lovingly embraced in her paintings. She uses the vibrant colours of watercolour and acrylic ink to convey the mundane and the ordinary next to the glorious and spectacular. Cathy's distinctive paintings depict the geometric shapes and inherent patterns of architecture in a free, expressive style. Cathy draws inspiration for the paintings from time spent in London and other major cities, such as Manchester and Oxford, she brings the city to life.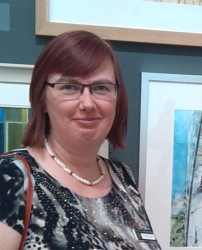 Cathy Read is self taught, her earlier paintings were predominantly circle based abstracts but then developed into urban landscapes fueled by a lifelong interest in buildings. This evolution was only natural following a childhood dominated by the giant mills of the Cotton industry in the North. Cathy's artwork is shown around the UK, Europe, and is in collections as far afield as Canada and Africa. Commissioned by Oxford University Press, her work illustrates the 2016 Oxford Almanack. The original painting is now in the Ashmolean Museum in Oxford.
Cathy Read is a member of the Society of Women Artists exhibiting with them in London since 2013. She received the Barbara Tate Memorial Award in 2015. Cathy has also shown with the Royal Watercolour Society and the Royal Institute of Painters in Watercolour in London.
You can also follow Cathy on:-

            www.flickr.com