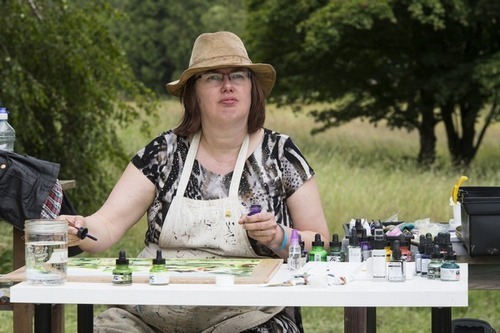 Cathy Read re-imagines iconic architecture using explosive, colourful drops and trails of paint, held together with a structure of white lines. Inspired by looming, dramatic urban and industrial architecture, she draws on influences from various cities in the UK. In a previous life she worked as an Occupational Therapist using large art projects to help develop motor skills in children.
Cathy exhibits with the Society of Women Artists in London and was awarded the Barbara Tate Memorial Award in 2015. Her work is in the Ashmolean Museum in Oxford and corporate collections. She appeared on Sky Arts Landscape Artist of the Year in 2016 and 2017.
Originally from Manchester she now lives in a chapel near Buckingham which she converted with her husband. She lives close enough to London to get her Urban Architecture fix when needed. When Cathy's not steering 60 ft of steel canal boat along the British waterways and wielding a windlass, she can be found splattering paint and singing loudly in her Buckinghamshire Studio.
Drawing with masking fluid, Cathy reflects the city in all its glory. From ground breaking designs of cutting edge architecture, to the decaying remnants of a glorious past – these are lovingly embraced in her watercolour and acrylic ink paintings. Using the media's vibrant colours, Cathy conveys the mundane and ordinary beside the glorious and spectacular.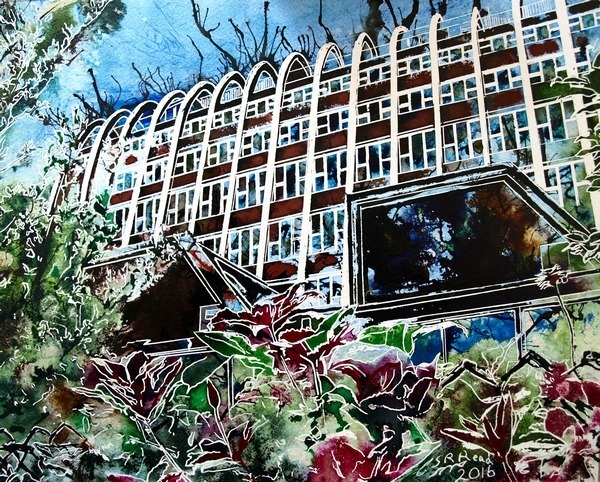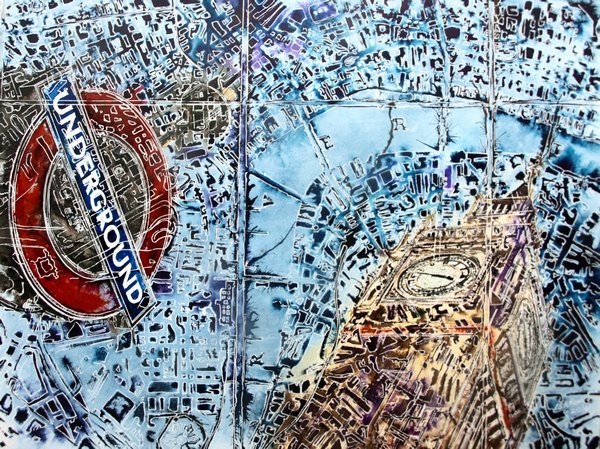 ⧉ Create original paintings like this.
⧉ Create bespoke original artwork like this to commission.
I share all my latest work with cool people who love my paintings.
Participate in Exhibitions and other events which I share in my newsletter and on my Art Events Page.