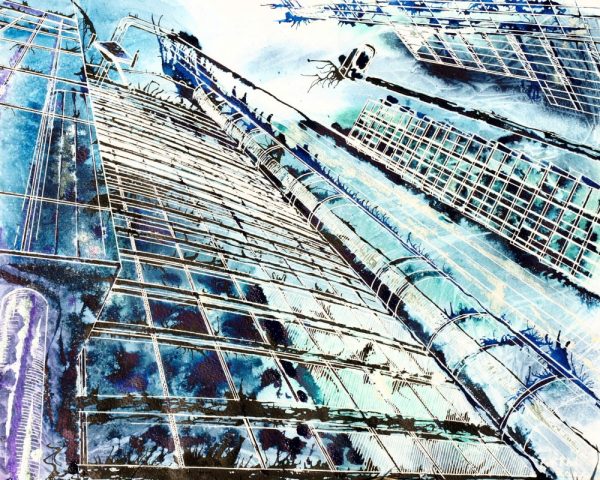 ©2013 – Cathy Read – Anonymous in the City – Watercolour and Acrylic- 40 x 50 cm – £460
Vibrant colours with a fluid impressionistic interpretation of solid architecture are characteristic of Cathy's work.
Cathy S R Read is a self-taught artist from Manchester (UK) and Associate Member of the Society of Women Artists. Growing up amidst the decaying mills of the Cotton industry fuelled an interest in buildings. Painting and drawing were favourite pastimes, although she only became an artist in 2008.
Earlier paintings were predominantly circle based abstracts.
The urban landscape style developing in 2010, inspired by the massive changes seen during visits home to Manchester over the years. Her mixed media abstracts depict the geometric shapes and inherent patterns of architecture with a freely expressive style. She looks to London for inspiration but also finds it in other major cities such as Manchester.
Contrasts play a significant part in Cathy's work.
The chaos of a dream world defined by the order of the physical structure, light and darkness or clarity versus obscurity.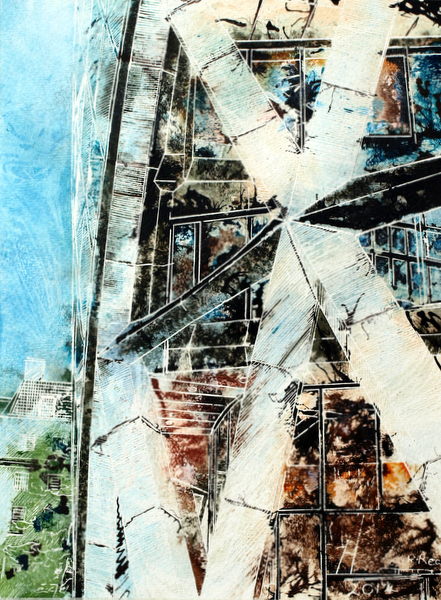 ©2014 – Cathy Read – Ground Star – Watercolour and Acrylic – 28 x38cm – framed   48 x 58m –  £260
Cathy's distinctive work has been seen in such places as the Bankside and Mall Galleries, London; Linacre College, Oxford and Stowe House, Buckinghamshire. Her work is gaining international recognition being accepted for exhibitions in France and Norway and is in private collections as far as Canada and South Africa.