Under construction, the dominant sinuous curve of the building flows across the page. Like a giant ocean wave, arching up over the waters. Or a Persian carpet flicked and frozen in the air as it's placed on the ground. In cool restrained colours, intermittently lifted with spikes of bright red. All is subdued, controlled, reserved.
The incomplete architecture feels wrong, as if it shouldn't be there. The shape and the lack of covering suggests something otherworldly. Besides the shell of a building itself, there's the tall crane's spindly legs, looking like a creature from a HG Wells novel.
An invader from Mars!
Cranes are fascinating inventions, powerful yet delicate, as if the two can't go together. Yet often the most fragile appearing things can withstand the greatest of stresses. Why after flagpoles when there was no facade on the building? So much of what we look at in Under Construction is baffling, or means nothing to the untrained eye. The abstraction caused in the painting, adds to that sense of confusion.
New homes in the act of creation, how will they look when finished and who will live there? Will they recognise this image in connection to the place they call home?
Where are we?
On the South bank of the River Thames in Battersea, standing in front with a power station, having walked from the new underground station? Battersea Power Station station? Yes, that's correct. I've not doubled the words in error. We are looking at Prospect Place and how it has changed from here. The final phase of the transformation of the once abandoned Landmark and area.
Look at it now! Eight years on from the images which resulted in Battersea Reborn and Battersea Under Chelsea. At the time of writing, this meditation the building work is over and the Transformation complete. So many changes in such a short space of time.
I've always been fascinated by building sites, and especially the techniques involved in large builds like this. Often the transformation when the curtain wall is added is dramatic. It's no less impressive with this one.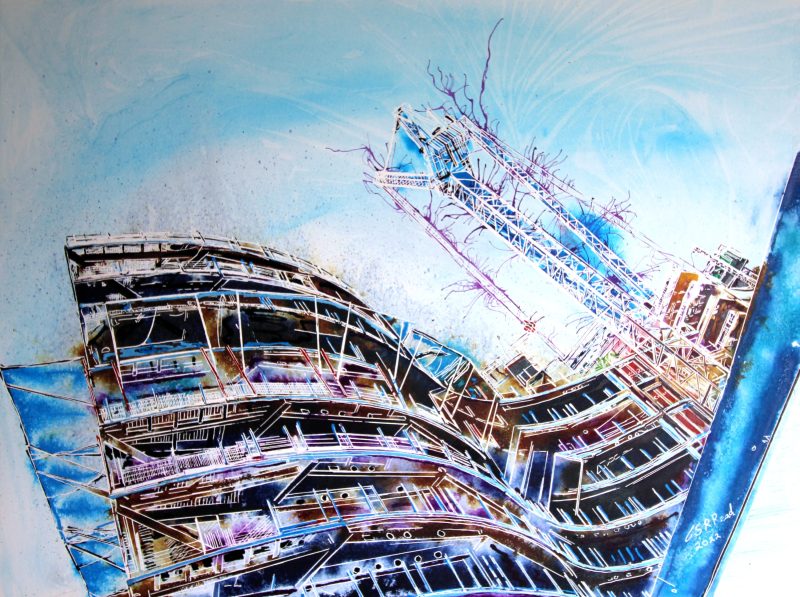 See more of Cathy Read's London Paintings.