Designer Stadium is a Wembley Stadium Artwork that I'm proud of. Not least because it was a struggle to create.
When I started working on London Architecture, I wanted to create a piece of Wembley Stadium Art and ended up using one of the worst photographs I've ever worked from. Backstory: I'd decided to use my own photographs by this stage. It avoids a whole load of pitfalls with copyright. Only trouble was, I didn't have any images of the stadium, except this one. Taken when I was on the train back from London and realised we were approaching Wembley Stadium, although not that close. Ooh, that might be a good subject, I thought. I had my phone and, of course, it took ages to get ready. I was on the verge of missing the shot completely. So, I took the best image I could in the time. Through the dirty window, speeding past the subject at some distance on a drizzly day.
This is what I had to work with, and, if I'm honest, it actually looks OK at this resolution, but when you try to zoom in and do that arch, urgh! Those lines needed to be right, random squiggles were not an option.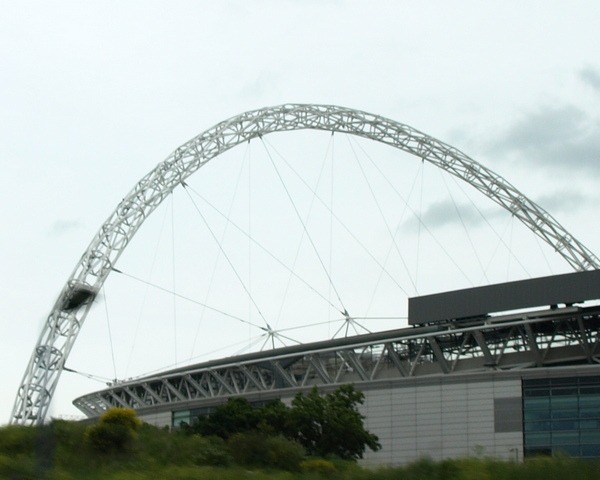 Sure, I could have gone back, but that thought didn't occur to me, and, if it had, I really didn't want to head back. I love London, but, at the time, I had school runs and children to organise. Days out required lots of pre-planning. Plus I wanted to get started and decided to work with what I had. (I have zero patience when I really want to do something).
Queue lots of filling in blanks, redrawing and sharpening of blurred lines. It was a painting challenge, but I think I pulled it off. One day I'll get a closer image and turn it into a looming painting to add it to my Stadium paintings of Old Trafford and the Etihad Stadium.
So, how did I do? This is Designer Stadium. The name came to me when I started thinking of all those footballer's wives and girlfriends who love their designer clothes. That arch reminds me of a bag handle. don't judge me I've seen worse bags. At least it's an attractive piece of Wembley Stadium Art now.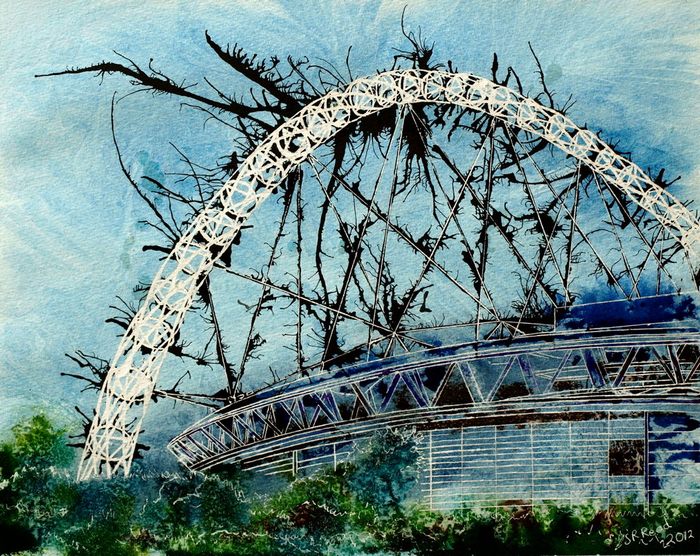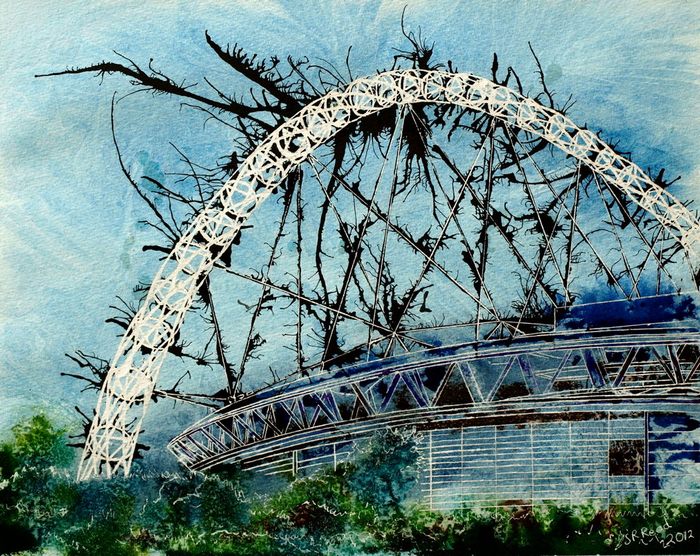 Curious to see more London Paintings?