A busy Saturday in Manchester.
Passengers waiting for the tram. A moment in time held in the finished painting of the tramstop outside Manchester Central Library. Now for the tricky bit…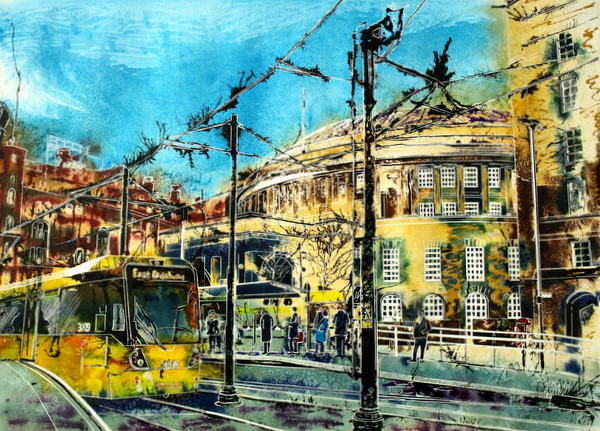 Deciding what to call it!
Waiting for a tram?
Tram stop?
I'm presently on "Catching a tram from the Library" as a working title but it is not quite there. Maybe I should have a caption competition? Suggestions in the comments please?
The tram is a fitting subject for todays post as I'm going to be taking you on a little journey over the next month. I'm putting my regular posts on hold for a while as I've decided to do a 30 day blogging challenge. They will return after the 30 days are over.
I've a title for my blogging challenge
The 30 Painting Tour of London.
I'll be sharing paintings of London and a full artist statement giving my reasons for each one, some will be new and some you may have seen before.
So please join me here tomorrow as we start the tour…