Vertical Aspirations is one of my early paintings of Manchester.
Developing my style involved created numerous paintings of Manchester. The essential components exist in this early painting. There are white lines, blown ink and blooms are there, but also elements that I don't use in the same way. My trees have evolved into something else.
Three people in the foreground provide a sense of perspective. These figures are sketchy, minimal ,almost punk like. They're focused on their own world as they make their way through the streets of Manchester. Oblivious to the dominating architecture looming in the background.
The two buildings loom large. Created in 2 different centuries, separated by a third, there's roughly 130 years between their construction.
Central Station.
Reclaiming an iconic symbol of Manchester's past, Central Station was derelict. Living through the great age of steam to the new age of the internet! Now reborn as a conference/exhibition Centre,
Beetham Tower.
A new icon of Contemporary Manchester, dominates the skyline, a symbol of the city's new ascent upwards. New developments are taking over the city, nestling in amongst the old familiar landmarks. Looking at Beetham Tower, it's possible to imagine a map of the world impressed onto it's façade. The dark blue land masses held together by grid like structure of longitudinal and latitudinal Lines. A serendipitous feature which alludes to a bright new future for this great city.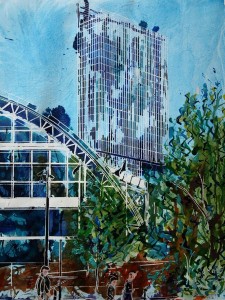 ---
Vertical aspirations is now sold.
If you'd like to see which of my Manchester paintings are available, check out my paintings for sale.