Can you imagine seeing something so wonderful your jaw drops?
As a child, Mum took me to Manchester City Gallery. Entering the second room I was spellbound. The painting Work by Ford Maddox Brown captured my attention. I was lost in the details as it spoke to me. Even seeing it now, I'm instantly transported back to that moment, when the need to create art that could inspire a "Wow!" was born.
Appearance on Landscape Artist of the Year
Cathy Read appearing in Sky Arts Landscape Artist of the Year in 2016. At ease on the camera, here she is explaining her technique to Frank Skinner.
Repeating the experience the following year as a wildcard, proved to be a soggy encounter with a windy clifftop in Wales.
"I paint with Watercolour, it could be a disaster"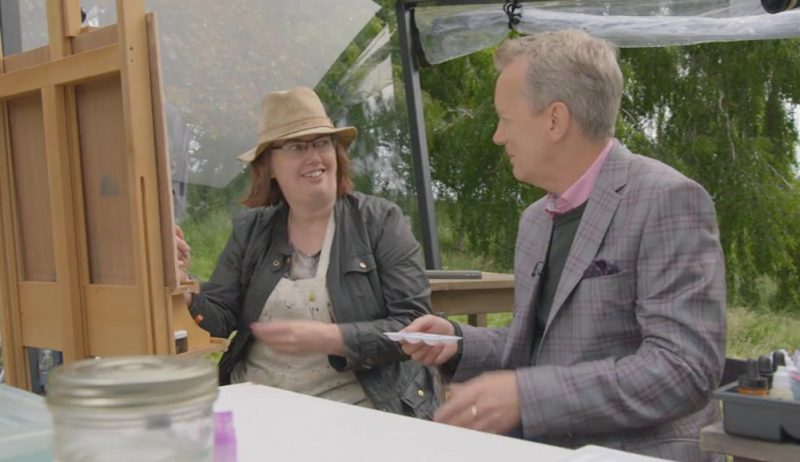 Contemporary artist Cathy Read draws with masking fluid, creating urban landscape paintings that reflect city life in all it's glory. From the ground breaking designs of cutting edge architecture to the decaying remnants of a glorious past.  Each lovingly embraced in images full of detail.
Using vibrant colours of watercolour and acrylic ink, she conveys the mundane and the ordinary next to the glorious and spectacular. Cathy's distinctive paintings depict geometric shapes and inherent patterns of architecture in a free, expressive style, where she brings the city to life.
Cathy draws inspiration for these paintings from time spent in London and other major cities, such as Manchester and Oxford.
Contemporary Architecture Artist
Discover the Latest Creations
In my studio I create vibrant metropolitan perspectives all the time. This is where my fledgling creations meet the big wide world.
Explore Available Paintings
Find which original paintings from my online art gallery are available to buy.
Showing 25–36 of 39 results
Browse Cathy's creations inspired by architecture in London, Manchester, Oxford and other locations.