Taxis are everywhere you look in London.
Unless you want one that is. Then you can wait ages before three turn up at once! Occasionally you may be in the enviable position of having a few vie for your trade but that's as rare as hen's teeth.
Yet, people love London Taxis!
London has plenty of transport options but Taxis are popular. To many London visitors, the idea of driving around fills them with dread, so London taxis are the next best thing. It's a personal form of transport with a chauffeur.
The fact they have to learn "The Knowledge" is especially useful if you don't know where your destination is and are in a hurry. Or when it's raining!
The London cabbie has a reputation for being friendly and chatty.
These three are heading to their various destinations, but perhaps there was some competition going on after they spied fellow drivers? Fastest to the lights?  Or maybe first over the bridge?
I imagine they often hold contests with each other, especially during the quiet times. Although it's difficult to know when is a quiet time as London always seems to be busy. Well, except for Sundays in the business areas.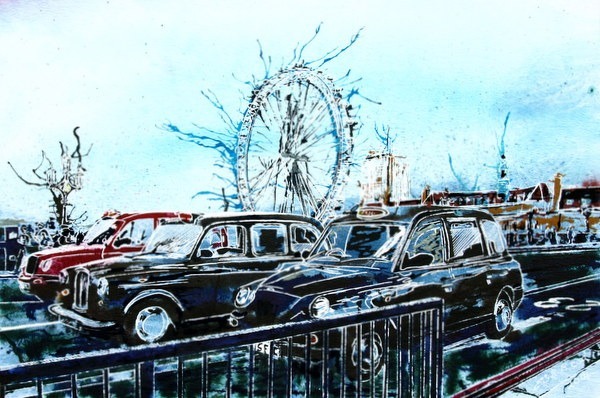 When taking the reference photograph for the painting, the idea of running a Marathon came to me.  With the red taxi standing out so that maybe he's the pacemaker or the taxi equivalent of a yellow jersey?
I wonder which one won the race?
Save
Save
Save