Part 1 ended with my "finished" Landscape Artist of the Year Painting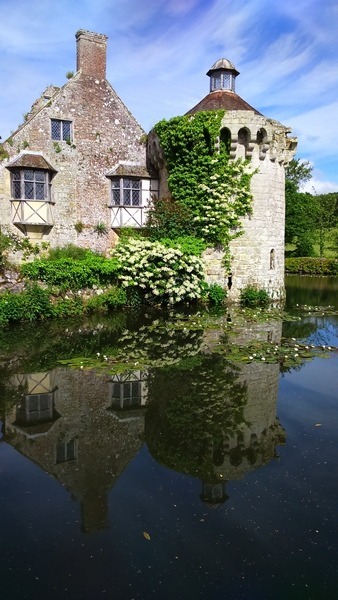 Under the circumstances I felt I had done well - although I would have preferred to do more.
I had achieved my goal of finishing in time in the 2016 Landscape Artist of the Year competition. By now, I'd seen where the Wildcards were placed and their location suited my style. Our location slots were allocated and we had no choice on that score. Fortunately, I'd have chosen one of these two myself.
Having finished the paintings we were encouraged to look at our fellow competitors' work.
I managed to see the artists on either side of me before being whisked away to the island. While we were exploring, the judges could come to a decision and film comments which we were not permitted to hear.
To keep us busy – they did more filming.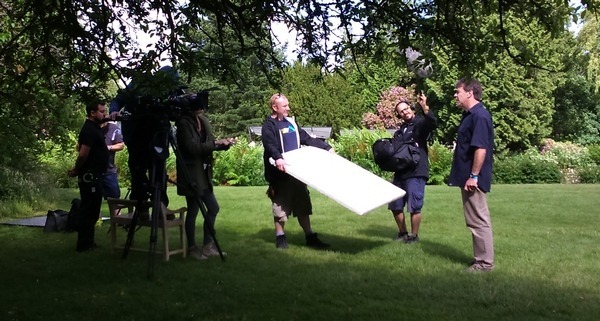 Throughout the day we had been doing "Vox pops" - interviews where you talk to the camera.
A production assistant asks you a question which you then answer, including the question but not looking at the camera.  Sometimes keeping a straight face was challenging as various sound engineers and lighting men held their equipment close enough to work but not in shot. It was a bit like watching attempts to break the "How many can you cram into a telephone box?" record or maybe a cartoon scene.
We all did them. In the morning the questions were: "How do you feel about getting through?" and "What are you worried about?"
Now it was "How do you think you have done?" What would you spend the money on if you win? What did you think of the other artists' pieces?
And of course…there was a lot of hanging around taking pics.
Then the dreaded moment arrived.
The first judging round.
We stood. Motionless in a line.  It seemed an eternity while the camera did a panning shot. Eventually the judges decision 'was announced, and the three shortlisted artists stepped forward. Those of us not selected shook hands with Joan Bakewell and Frank Skinner before being led away from the judging area.
The "Also-rans" remained on site, hanging around awaiting the winner announcement.
In the beautiful grounds of Scotney Castle in baking sun. It's a hard life!
Finally we were called and the Heat Winner was announced, Howard Weaver.
What did I think of the winning piece?
It was a very well executed, traditional painting. Of the final 3, not the one I expected to win. I understood the judges had favoured more contemporary work in the past.
It will be interesting to see the remaining heats' results, and, of course, the overall winner.
You can find a link to the full episode at the end of this post.
Yes! If I get the chance. (And I did.)
Would I do it differently?
Yes! Next time I would…
bring binoculars to see more building detail.
focus more on a part of the architecture.
modify my technique and include mixed media.
take more risks
bring a hairdryer!
Would I paint in a different style?
No. I was not keen to completely abandon my established working method. 
I freely admit my finished picture is not my best work as I struggled with drying times.  Watercolour tends to go flat if you put too much on at once and it takes time to develop the effects I use. This was a problem I expected as my paintings usually take days to create. 
With the short timeframe it was impossible to develop my piece effectively. I had to let it dry. In fact the judges were worried I wasn't going to finish in time. This does not come across in the final edit as most of it was cut out.
I had considered trying a more conventional approach before the competition but felt that was selling out. I was selected based on my unique style that took hard work to craft. I just need to figure out a way to make it work in the time frame, if I get through. 
All I can say is…
Watch this space!
Save
Save
Save
Save
Save
Save
Save
Save
Save
Save
Save
Save
The original painting is now available for sale in my shop.

Sky Arts - Landscape Artist of the Year