Time to say Goodnight Thames!
We have reached Day 30, the final day of our tour. Time to say a final farewell! Over the last 30 days we've wandered around this great city and the Thames has been close by. The Thames is the heart of London. Its source and reason for existance, the river both divides and unites the city.
We could carry on, I have more paintings to share…
but the challenge was 30 paintings over the 30 days, so here we must end. All things will end eventually, it's a sobering thought and can easily bring you to dispair but endings are also beginnings.
For when one thing ends, something new takes its place.
Goodnight Thames is a painting based on a photograph I took on my way home from a Private View at Bankside Gallery. It was late enough to be dark but the night was still young. I'd had a wonderful evening at a significant event in my art career, my first exhibition with the Royal Watercolour Society. Whilst it was the end to my evening as I headed home on this occasion, it was also the beginning of something else.
The start of the exhibition!
I could have continued celebrating my success. London is alive at night so there were many options. I chose it to be the end, but it needn't have been. I marked the moment by enjoying the way the Thames was lit at night, and taking some blurry photographs. (It's a good job I don't need sharp images to paint from.)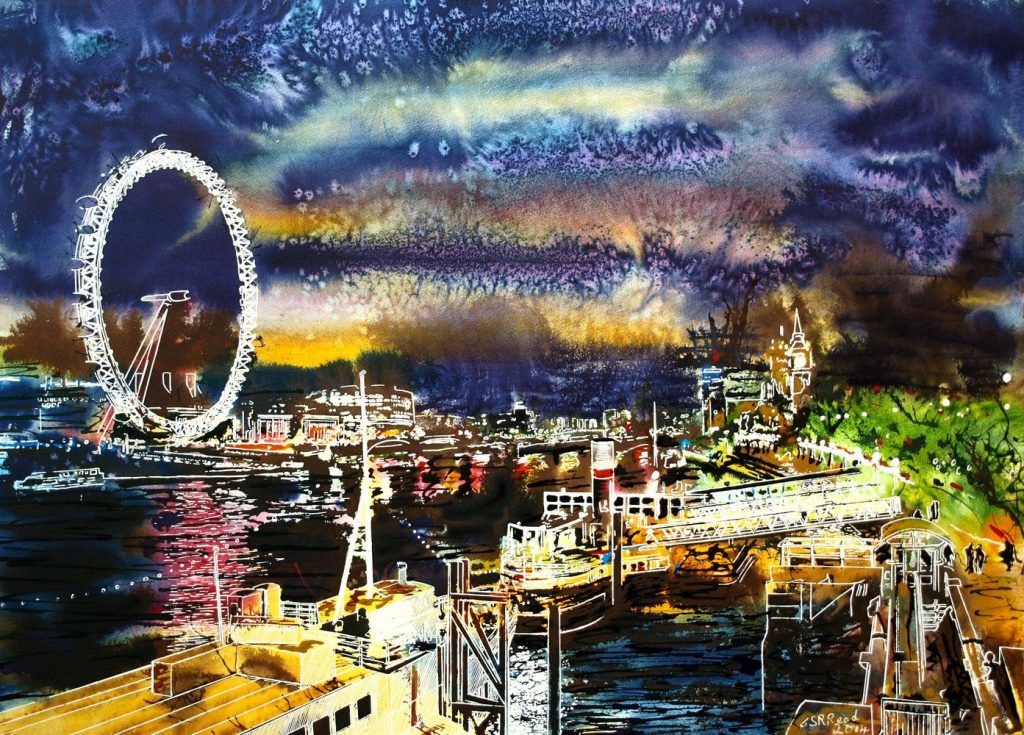 Endings are emotional times, but the simple truth is that endings are what we make of them.
We may have no control over when they happen but we can choose how we respond. They can be the end of something wonderful that we long to return to. We may need time to grieve a loss, lets face it some endings are devastating. We can get stuck in wishing things would return to how they were but ultimately there is nothing we can do to bring back what has ended.
Or we can see endings as the turning point where we begin a new adventure.
That's not to say we won't feel pain and have scars to show, I know some endings can nearly destroy us emotionally but ultimately the choice to keep going is up to us.It is a conscious choice that we may need to keep repeating. Like deciding to keep writing these posts even though they have been hard at times.
We will reap the rewards in time.
For me the 30 painting tour of London has ended. I intend to collate these images and the stories that go with them and create my second book. It will be a while before it's finished as I haven't decided whether to extend the tour yet. There are gaps…
Would you like to keep up to date with my progress or see more of my work would you like me to share them with you…