Imagine the sirens howling as an Ambulance makes an emergency run across town. The painting was inspired in an instant.
Driving through Manchester on the way home, I was taking a few snaps for inspiration (I wasn't driving, in case you're wondering.)
Sirens, Sirens everywhere!
As is always the case, it can be tricky to figure out which direction it's coming from. Suddenly I saw the blue lights in the distance, and it was coming towards us. I took a picture. Back at the studio, with a bit of editing, I had an image I was happy to work from.
After creating a painting of a fire engine, and police on bicycles, It seemed natural to turn my attention to the ambulance service.
No drawing images on this one, I got a bit carried away…
but I have a few close ups taken during the painting phase.
The stage when the masking is removed and the final image is revealed.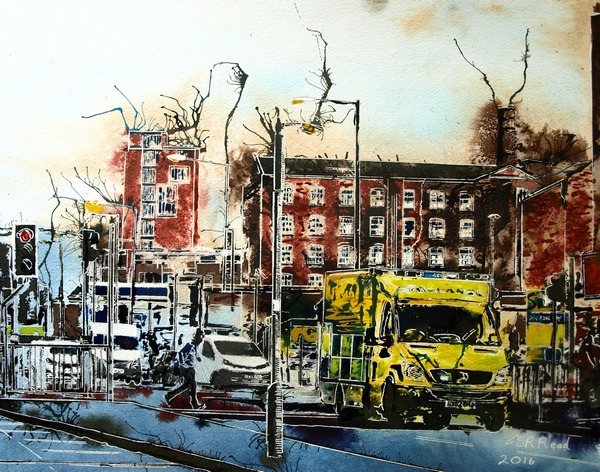 I love the fact you can't see the driver, almost as if the ambulance is driving itself.
(The original picture has the same effect.)
Next time I'll be sharing how the Plein Air sketching went in Beaconsfield. Find out more about this and other available Manchester paintings.