When you hear Blondie's Hanging on the telephone what do you imagine?
At the time of the song, public call boxes were everywhere and I can imagine her standing in one, receiver to ear waiting… The setting adds a touch of visual drama . The lonely figure waiting for an answer.
In the age of mobile phones, the importance of the telephone box is not something Millennials think of, but there are still plenty around. The ones by the Houses of Parliament are probably the most well known, and an obvious choice for people calling home from the city in former times. These days they are more often used as a photo prop.
Ever look at someone in a phone box and wonder who they're talking to or what they're saying?
Maybe it's just me being nosy but I often wonder what conversations phone boxes witness. Good news, bad news, "I'll be late", "I got the job"
This red telephone box painting got me wondering how many stories could it tell?
The title took a while coming.Paintings can seem mysterious in the beginning. It takes a while for the shapes and character of a piece to emerge.
This painting is very much like that. Although, it's a favourite subject of mine,
There's something classic about the old red telephone boxes.
This is probably the most famous one as it's close to the Houses of Parliament so is very popular with the tourists. I thought I'd add a tourist/traveler/student to the box. I haven't decided who he should be yet. Think I'll leave that to your imagination.
This is the picture just after the initial wash and with the cling film still in place.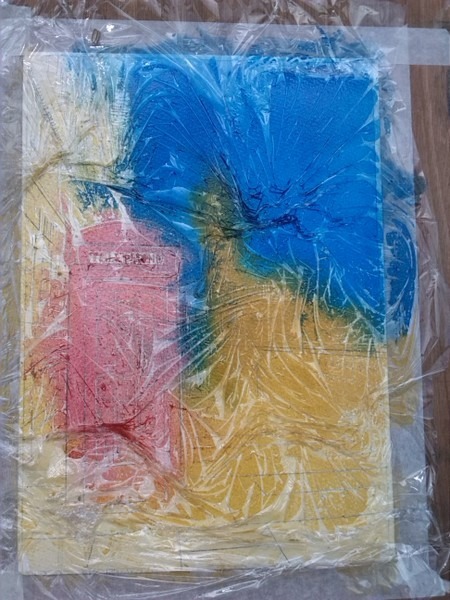 It's quite hard to make out structures at this stage but you can see the telephone box and, if you look closely you can just make out the outline of parliament in the background.
And here it is after a I've started using the inks.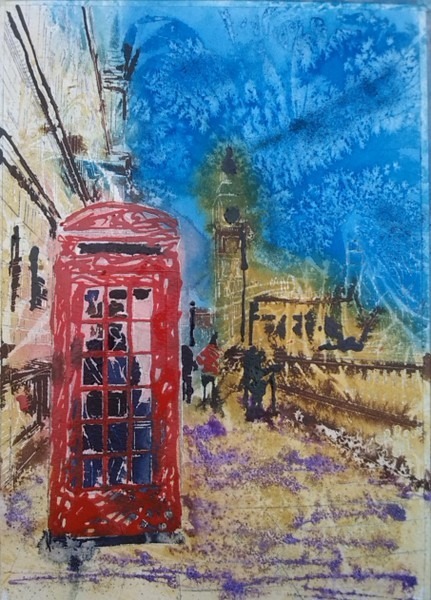 Taking shape nicely.
I decided to avoid the "ET phone home" type title. I also thought about "Hi Mum, I'm in London…" but I think "Hi Mum, just called to say…" works better for me.

And here it is "Hi Mum, just called to say…"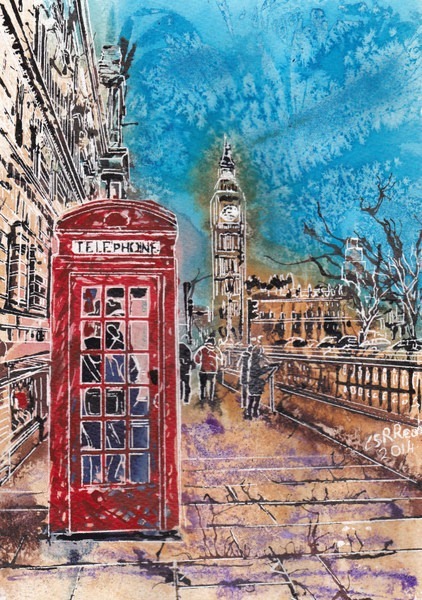 This particular London Telephone box is popular with tourists
due to the proximity to the Houses of Parliament. It tends to be featured in their photographs but I wonder how many calls home it actually witnesses? Visitors to London, be they commuters, travellers or students, all have reason to call home. Although, in this day of the mobile, the phonebox is seldom their first port of call.
The red phonebox has become a romantic ideal,
Yet I remember them being cold, often smelly places to phone those you loved when you were away from home. That's the power of romance though, it tidies up reality. For some the red phone box may still be that lifeline, their means to communicate that they're happy to be in London?
Or that they've lost their phone.
Now that would be ironic!
This is one of my London.

Save
Save
Save