The Shard painting showing the Birth of a Skyscraper.
Some buildings are born not just made. The Shard painting celebrates one of those 
There is an idea or concept that defines them, not just a need for a space to operate in. The process by which they are created may take time but there is a moment when the idea is formed. And a second when the concept is realised, of course. It may not be complete but what it is can be identified by others. This painting was done while the Shard was still under construction. I was able to get very close as the exterior was complete. The concept of the birth of something new struck me then.
London, like all cities, is a place of constant change. Everywhere you go there are construction works. The constant growth and rebirth of the environment is how cities work. Change is a certainty of life. It adds to the excitement and stress of city life.
Tall thin buildings always fill me with a sense of foreboding, like they will topple if the wind is too strong or something nudges them. Being tapered the Shard "feels" more secure but that tapering also makes it appear taller and loom more! The thing with tall buildings though, is once you see them you want to see what's at the top!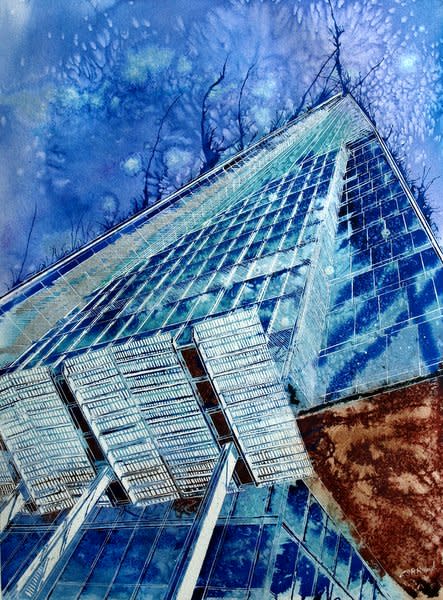 Think I need to see that view now.