Artist Meditations on a painting
I'm often asked about the stories behind my paintings. I've recently begun a practice of meditating on my art and writing down my thoughts. These are those thoughts edited slightly.
Beginning with Albert Square.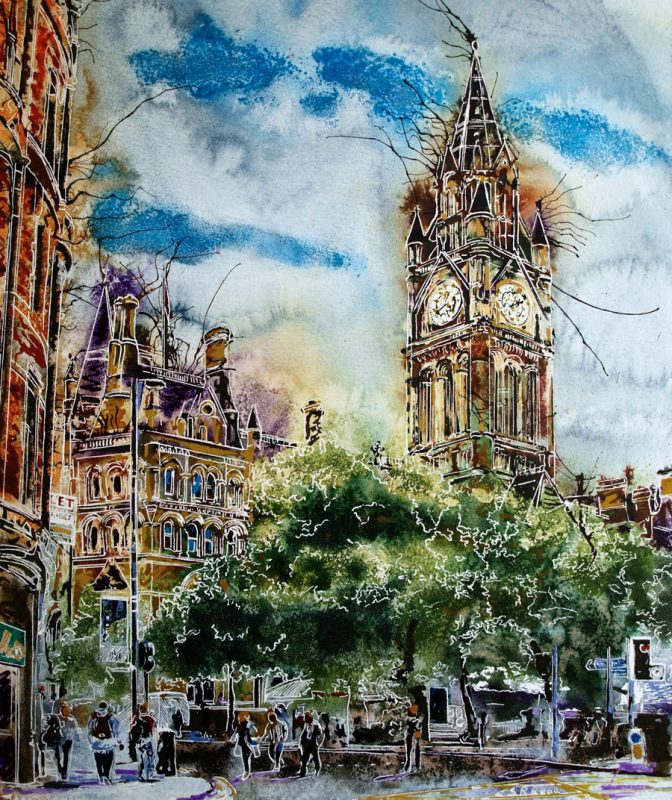 Colour takes on life of its own with this painting. Colours leech out of the constraints, the white lines failing to contain them.
The scene is Albert Square in Manchester.
The sun is shining through the gaps in the clouds. It's market day but the market is hidden behind the dense foliage of the trees.
Manchester Town Hall stands up tall and proud. A symbol of Mancunian heritage, built in the days of King Cotton. The Mills may be disappearing but the Town Hall stands defiant. Watching over all as people scurry around below. There's a gap in the traffic, as the red light holds it at bay, and the people hurry to continue their journeys down Cross Street.
The Gothic architecture's distinctive of its time and mirrored in towns and cities across England. Although, personally, I think Manchester did it best but then, I'm biased.
Back to the colours. The purple of the slates mingles with the sky, bright orange brickwork transitions into reds and browns. The people themselves fuse and become one with the scene. Frozen in time, destined to travel but where are they going?
Above the Clock Face measures time but what time 12: 40 or is it later? Time itself has been frozen into one perpetual moment.
Always still and always busy.
Those are my thoughts, but I've learned that once a painting is complete, it takes on a life of it's own, so now it's over to you.
What else can you see?
---
Albert Square is one of my Manchester Paintings Series. This painting has been sold but other paintings are available here.