Ever wonder what happens in an Artist's Studio?
The short answer is anything, artists' techniques and creations are so varied it's impossible to sum them up in one post. Even a single artist never does exactly the same thing on two consecutive days. I can, however, show you what goes on in my studio on ONE day.
Here's what went on in my studio on this particular day.
I have family so first thing is spent getting up and making sure they are where they should be, so I get to the studio around 9. I usually make myself a coffee, turn the music on and then get started. (The coffee part is repeated frequently. Often because I forget about it and it goes cold.)
I start with Painting
This is what I'm currently working on. I haven't decided on a title – something about the Police Force is as far as I've got. The boat is on the Thames and I loved the positioning of the railings, which are yet to be painted.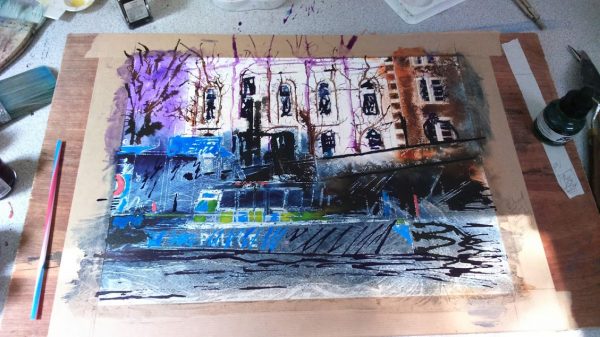 Painting bouts are relatively short, as things need time to dry. I've learned, from bitter experience that you must let things dry. If not the inks merge and leave a monochromatic mess.
Painting isn't the only thing in the studio
I spend a lot of time planning and orgainising myself and the various events and exhibitions.Here's my makeshift wallchart/calender (September and October were being updated, in case you're wondering.) I print photos off to be used on painting projects, like here.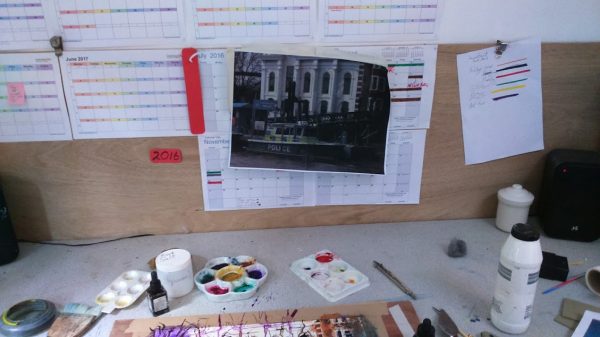 I need to prepare before anything can be created.
Today I needed to cut some paper.
You'd be forgiven for thinking these were part of a sculpture, but no, just a quirk of being cut from a roll. I have a large roll of watercolour paper which I cut down to size as require. And by massive I mean 5 ft x 33 ft. (152 x 1006 cm) of 300gsm or 140lb watercolour paper for those who want to know stats.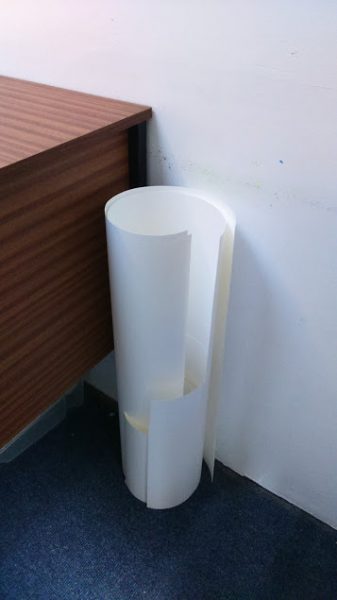 Once the paper is cut to size, the process of stretching begins.
Stretching watercolour paper is the bane of my life. I don't mind the process so much as I don't seem to be any good at it. These all look fine and lovely, but the larger sheets are hit and miss. Sometimes they work, but more often the paper pulls out from under the brown tape. It's a problem I'm working on.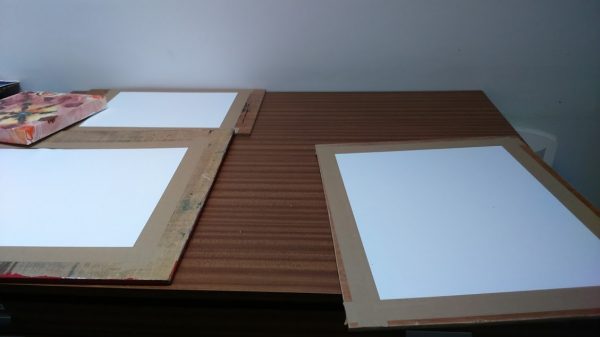 You notice, I prepare more than one sheet of paper at a time?
That's because I tend to work on several pictures at a time. Remember me saying about waiting for paint to dry? Well, I'm not that patient, and, if I don't have something else to work on, I keep fiddling with pictures.
Then end up ruining them
Working on more than one at a time allows me to keep things going and make the most of my precious studio time. I also need to let it dry before I can start. So I often have one being painted, one being drawn out and one being finished off.
You can see Three generations on the easel to the right.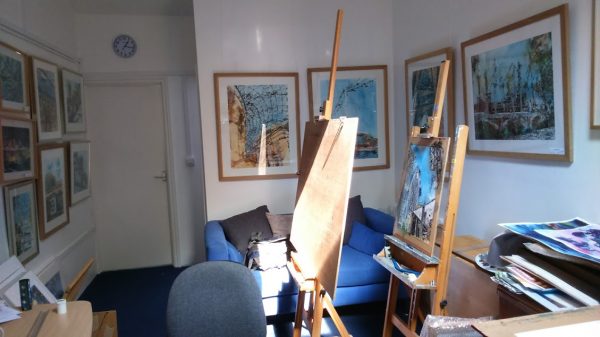 So there you have it, a typical studio day.
Did you enjoy looking around?
Would you like to visit my studio sometime?
Why not contact me to arrange a visit.
[contact-form to="cathy@cathyreadart.com" subject="Can I come to your studio?"][contact-field label="Name" type="name" required="1″][contact-field label="Email" type="email" required="1″][contact-field label="Message" type="textarea"][/contact-form]
Save
Save
Save
Save
Save
Save