Previous Events and Exhibitions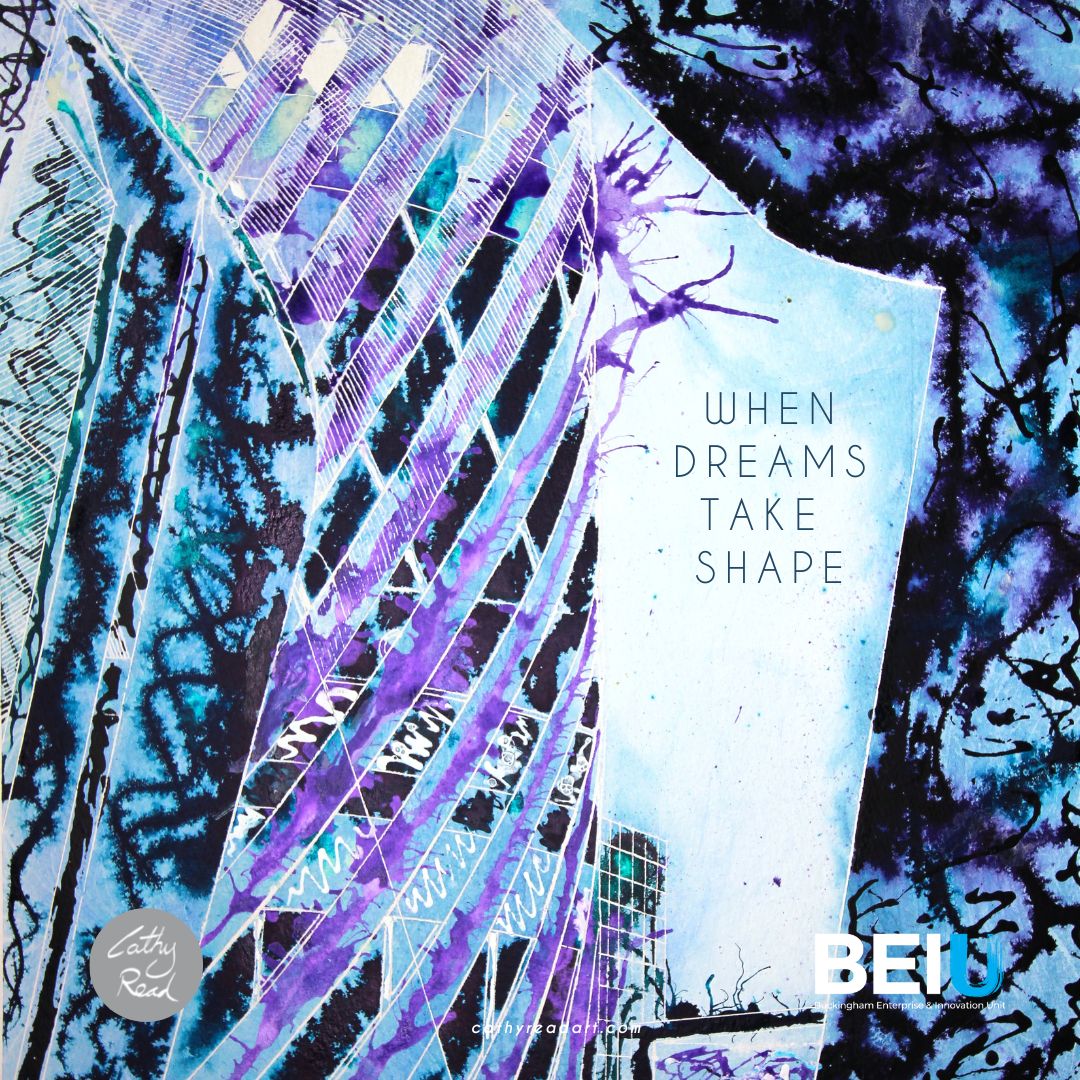 When Dreams Take Shape was a curated collection of art by Cathy Read which reflected the various dreams realised by mankind.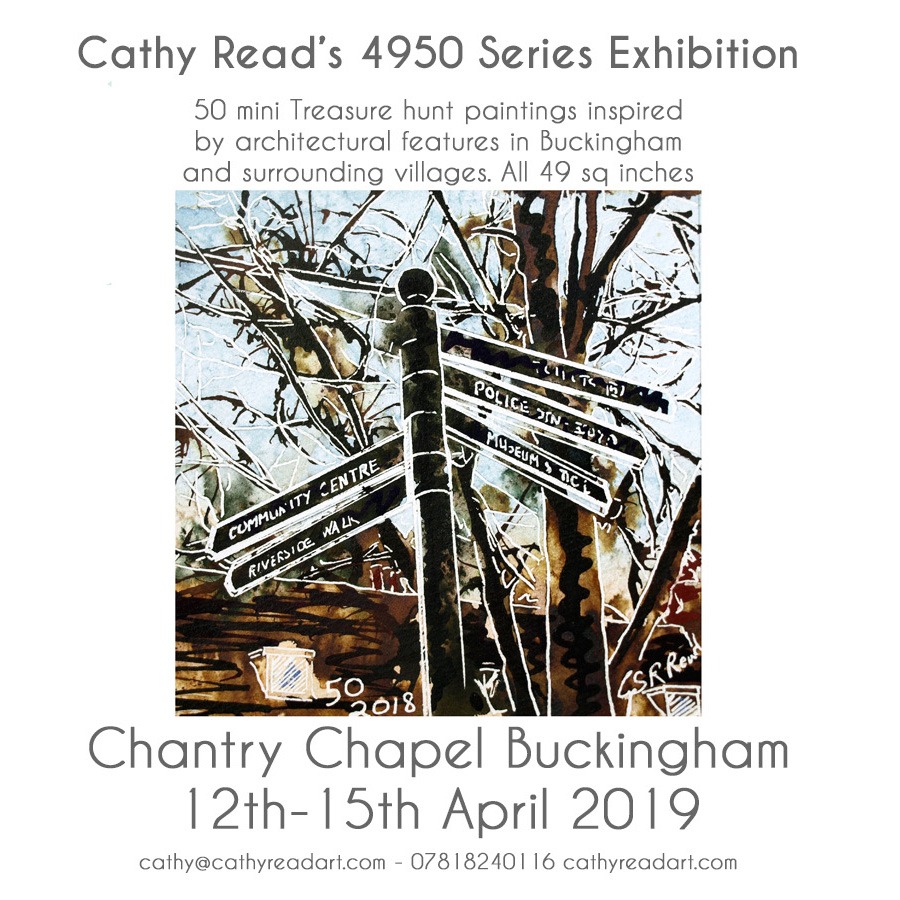 In January 2018 I set myself a challenge to create 50 paintings in a year. All the paintings are/will be 49 sq inches and are of architecture details. All the paintings will be 7″ x 7″ – that's 49 square inches. Hence the title 49 50. I kept them small intentionally, with the focus on architectural aspects or details allowing me to bring out the details in the same way I can in my larger paintings.
The exhibition showcases London's streets with a contemporary focus but this isn't just a visual delight, It's also an auditory experience with the artist herself guiding you on the tour of her work. The word unique is overused but, if you are looking for a new perspective, it's here.
From Morning Til Night at Tate Modern 3rd September 2011. Commissioned participant in a Conceptual Art Performance Piece by Katarina Seda
Solo Exhibitions
April 2019 – 4950 Exhibition – Buckingham
October 2018 – Take a Trip to Marylebone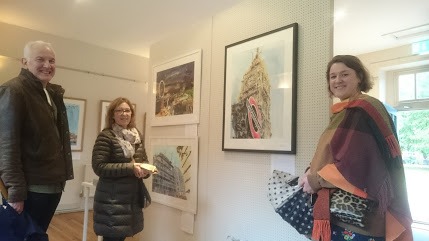 July-Sept 2017 – London Calling- Henley
Oct-Nov 2013 – 99% London- Woodstock –
October 2013 – Jan 2014 – A Tale of Two Cities, Buckingham
Nov 2013-Mar 2014 – The Milton Keynes Project
Milton Keynes
June-July 2012 – Project Space, Milton Keynes
2011 – Linacre College, Oxford
2011 –Bucks Open Studios
Two Man exhibitions
June 2015 – Bucks Open Studios with Alexandra Buckle
June 2014 – Bucks Open Studios with Alexandra Buckle
July 2013 – Shack to City – with Sally Brooks
June 2013 – When Urban meets Country – with Alexandra Buckle
June 2014 – Bucks Open Studios – with Alexandra Buckle
Group Exhibitions
May-June 2018 – Sense of Place – Claydon Gallery
June 2018 – Bucks Art Weeks – Claydon Gallery
June 2015 – Society of Women Artists 154th Exhibition Mall Galleries, London
June 2015 Green Dragon Eco Centre

May 2015 – Reading Art Fair
October 2014 – Love Art Fair
Nov 2014 – Perspectives on an English Landscape – Banbury
Nov 2014 – Windsor Art Fair
 Nov 2014 – Buckinghamshire Art Society Autumn Exhibition  – Aylesbury
June/July 2014 – Society of Women Artists – 153 SWA Exhibition
March 2014 – Royal Watercolour Society Contemporary Exhibition -Bankside
 November 2013 – Contrasts Buckingham
June/July 2013 – Society of Women Artists – 152  SWA Exhibition
April – May 2013- The Wheel Spring Exhibition
May/June 2013 – West Ox Arts
May 2013 – Bafa at the Woolpack
May 2013 – Bucks Art Society
Mar/Apr 2013 Tingewick Art Show
Sept 2012 – Mar 2013 Manchester in Art
Nov 2012-Jan 2013 –The Wheel Christmas showcase – Banbury
10-11th November 2012 – Bafa Weather and Dreams Exhibition – Buckingham
27th October-4th November 2012– Art in Woodstock
20th-28th October, 2012 – Bucks Art Society Autumn Exhibition
5 September- November 2012 – Artistsmeet Rickmansworth, WD3 1EH
26th July – November 2012 – Student Keys Buckingham. (Part of Buckingham Art Trail)
15-17th June, Bafa at the Woolpack – Group Exhibition
3rd – 28th April 2012 -The Wheel Spring Showcase, The Mill Arts Centre, Banbury
6th-15th April 2012 – Mouvaux, Nr Lille, France
3rd – 29th April 2012 – Starting Block – Oxon Artweeks Exhibition- The Jam Factory, Oxford (1 piece)
12-20th May, 2012 – Nomads Group Exhibition Oxford – Oxford Artweeks
29th November 2011 – 9th January 2012 – The Winter Show at The Mill Arts Centre, Banbury
2010-2011 Chiltern Open Air Museum
Nov 2011 Beaconsfield Art Fair
2011 "Light"- Bafa Exhibition, Akeley, Bucks
Oct 2011  Contemporary Art Fair, Rudolf Steiner School's , Kings Langley
May -June, 2011 – Oxfordshire art weeks The Mill Arts Centre, Banbury, Oxford.  Venue 239
May-June 2011 –Tourist Information Centre, Castle Quays, Banbury

Buckingham Art Trail – Canvas from April 2011
Easter 2011 Bafa Stowe School  Stowe House, Buckinghamshire
2011 Face of the Artist   Banbury Town Hall
2011 Brooklyn Art Library – Sketchbook Project
November 2010-April 2011 Buckingham Art Trail – Dragon Gallery
November 2010 – January 2011 The Wheel Christmas Exhibition – Mill Arts Centre, Banbury –
November 2010 – January 2011 – "Winter Wonders" Obsidian Art Aylesbury
November 2010 Beaconsfield Art Fair
November, 2010 Inspired by a Poem (group exhibition) 
Oct 2010 Buckingham Art Trail
Sept 2010 – John Lewis High Wycombe
August, 2010 Ginny Gray Gallery  Buckingham. Featured artist
Bafa Gallery – Art Trail various locations in Buckingham
Art Fairs
November 2012 – Beaconsfield Art Fair
November 2012 – Aylesbury Art and Craft Fair
May 2011 Beaconsfield Art Fair  -My painting Lily featured in the invite
September, 2011 -Eclectics Art Fair Milton Keynes
September, 2011 – Northampton Art Fair
Online