First of all, Thank you!
Thank you for all the support you've given me so far. Whether it's a like , share or follow or you've commissioned a painting, or anything in between, Thank you! It means so much more than I can say with mere words. Without people like you, I wouldn't be able to create the art I do. I promise to endeavor to live up to the trust you've placed in me and thank you for making it to the end of this page.
Can you help me to create art?
Like all artists, I rely on my audience, customers or fans to further the work. Supporting artists to create art is the only way an artist grows. Recently it's been harder to reach that audience as exhibitions have all been cancelled. If you really love paintings like City Hall (below) and would like me to create more new ones, please consider helping me to get the word out there.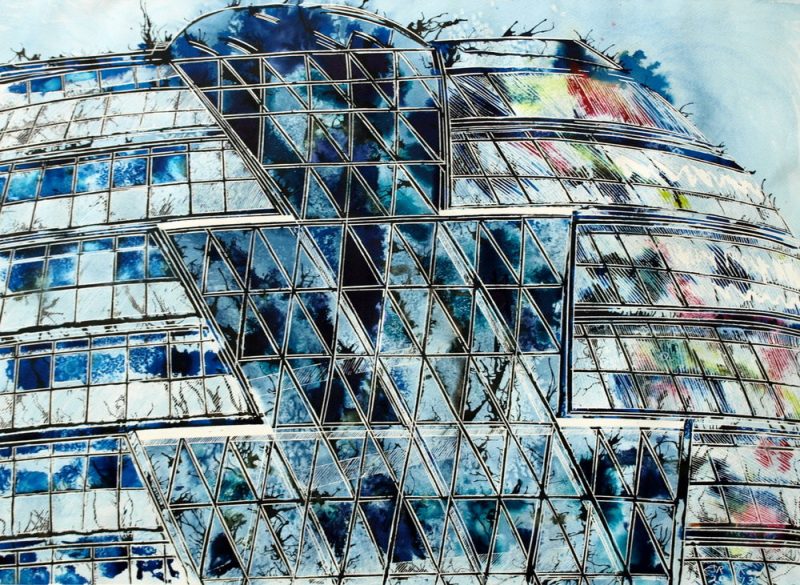 There are a two main ways you can offer support, by spreading the word or financially.
Support the Creation of Art by Spreading the Word.
Word of mouth is the easiest and best way for people to find out about what we do. Tell your friends about my art, show them examples like postcards, webpages or social media posts
Invite them to exhibitions, bring a group with you. New people are always welcome and we love to meet your friends. Whilst not possible in the current climate, please consider it once lockdown is over and it's time to visit those exhibitions.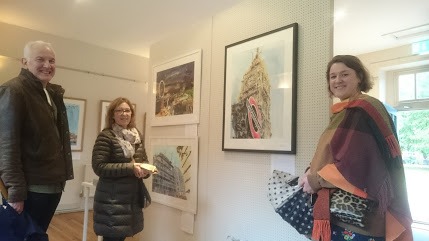 Sign up for the Newsletter.
I'd love to inspire you with my latest creations and news of events.
Follow on Social media.
The following links are direct to my social media accounts.
Once you're following, please share the posts, tweets, pins etc. and talk to us. Trust me, you'll make my day if you make a comment!
Enabling Artist To Create Art Financially
Artist Support can also be financial. There are a number of ways from buying a card or book to paintings and commission. There are also patronage schemes. These vary from the price of a coffee on Ko-fi to monthly plans with benefits like regular mailed postcards or prints to VIP treatment at events. Artist try and support one another, which is where the Artist Support Pledge comes in. Halp on and help others indirectly.
ARTIST SUPPORT PLEDGE is a generous culture and dynamic economy in support of artists and makers.
The concept is a simple one, post images of your work to sell for NO MORE (can be less) than $200 (£200, €200, ¥20000) each (not including shipping.) Anyone can then buy the work. Every time you reach $1000 of sales you pledge to buy another artist/s work for $200.
So make a pledge and post your work using #artistsupportpledge and follow the #. Keep updated on news and further opportunities @artistsupportpledge and http://www.artistsupportpledge.com
As I said earlier, I will keep trying to live up to the trust you've placed in me and thank you for making it to the end of this page.
With love from the studio,