Why is this painting of Chelsea Bridge called Four B's? It's a strange name for a painting. I'm not sure why I chose the title, except I was aware of the bus and a motorbike crossing Chelsea bridge, with Battersea Power Station in the distance. There are also lots of bolts on the bridge, although they're much harder to see.
The spot the difference sign on the power station side might have influenced my mind. I'm reminded of a familiar picture puzzle, which suggested another type of picture puzzle to my subconscious mind. It's not always obvious how we come to a conclusion, or the train of thought we went through to get there.
Giant cables support the bridge which seem to be exploding as the ink bleeds from between the lines. The effect compounded by the wayward tendrils of ink. Skitting off in all directions, like dark fireworks against the daylight. I can't escape a feeling that this is a grey and wet day, in spite of that, beautiful blue patch. The power station looks like a deluge is commencing, and the road feels wet.
The bike rider is a dark outline, fused to his vehicle. The bus follows him closely, but not too close, There's a gap, eerily bright, bound by the sides of the bridge and two vehicles. It draws the eye in a strange way. It's inviting us in. The only space in an otherwise packed scene. We can't see the bus driver. He must be there. The bus is moving, after all. This is no spectral vehicle, driven by an apparition. It's a solid, large red bus and, while that space is tempting, it's best not to be drawn in, as the gap is very soon to close.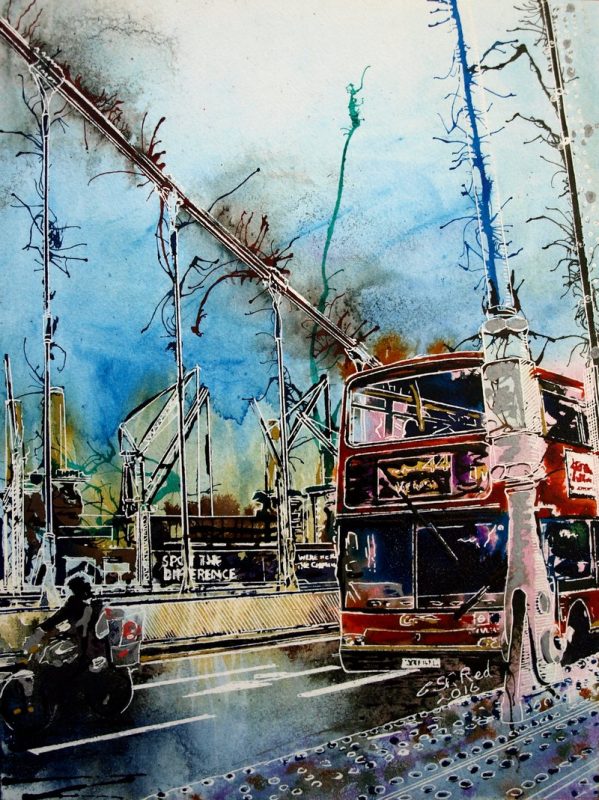 The Four B's painting of Chelsea Bridge is one of my London paintings.

Exhibition cancellations due to Covid 19 have reduced the opportunities to share paintings in person. As a result, I've started creating video talks about my paintings. Here's the Four B's one.