A Painting Commission conjours up mixed emotions in artists. Some love the challenge, others will run to the hills. It's true that commissions can be a gift or a curse, but which they are depends of how well you prepare. This is true for both artist and customer. Artists need to be clear about what they will do for the contract, that includes how many corrections they will do and how much they are prepared to lose if a customer really hates what they have done. Trust and a clear understanding what is expected from both sides is essential. Looking back at a commission I did of Quarry Bank Mill, I reminds how one thing leads to another. It was an early commission when I was just venturing into architecture paintings.
In 2010 I was experimenting with a collage technique inspired by Mark Barnard while I was developing my architecture style. I'd created a few paintings including this one of Times Mill in Middleton. It's a view I saw daily on my walk to school and was based on a photograph by Alan McEwen of Sledgehammer Engineering Press.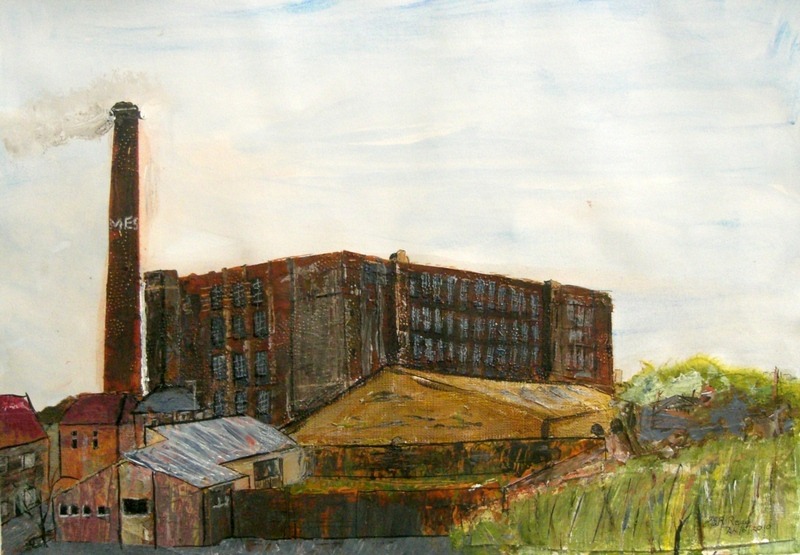 I shared it on my Facebook page at the time, and moved on. As I worked on more pictures I focused on watercolour and ink and didn't really develop this style.
Fast forward two years
I had an unexpected phonecall from a lady who'd seen the painting, fallen in love with it and wanted to buy it. We agreed a price, I arranged framing and delivered the painting to a very warm welcome. We had a long chat about our memories of Manchester. She was a Mill girl in her youth (She was in her 70s/80s). Times Mill had captured the atmosphere she asociated with her working life.
A week or so later she called me again. Apparently her children were all intrigued by the picture. Her daughter wanted to commission me to paint her another Mill in the same style.
Thus a painting commission process began.
We initially discussed Welkin Mill in Stockport, where my lady had been a Mill girl, before settling on Quarry Bank Mill in Styal. Owned by the National Trust and with fully working machinary. As is usual, I went on a photo shoot, I don't remember mills being so clean.
After photo editing, We whittled down the choice before settling on the composition which resulted in this painting. Throughout the process, I sent her pictures of the painting. Including the finished work and arranged framing. She was delighted.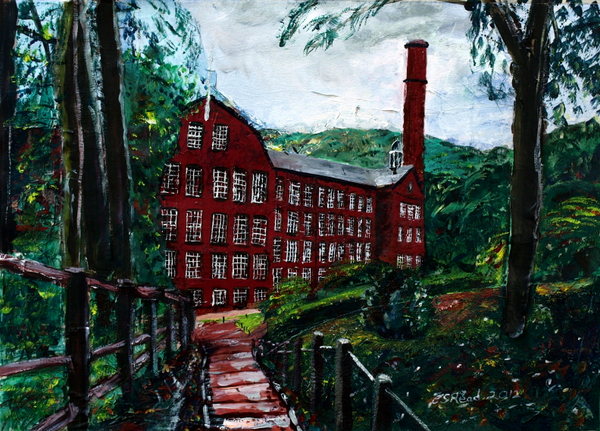 You can read the about the full painting process in my post Experiments in Art – Collage Painting of Quarry Bank Mill
Fancy create a painting for someone you love?
Like my style and have a place you love you'd like me to bring to life? I'm always happy to discus commissioning a piece, no obligation. Drop me a line or ring me on +44 (0)7818240116 if you'd prefer to talk. I'd love to hear from you.