The painting of Catz Quad Oxford, showing the bell tower in the distance, is not the view that typically comes to mind when thinking of Oxford. No dreaming spires here. This is modern. Clean lines replace carvings and concrete replaces traditional stone. The geometry of buildings stand out. Weathering has begun but hasn't knocked the corners off yet.
The less clearly defined approach is unusual. Finding Catz is a voyage of discovery to a hidden place. Unlike in the more traditional colleges which start with a gate in a wall at the roadside.
Even the gardens are different. Short hedges interspursed with similar sizes brick walls. Creating ochre and green stripes placed in blocks like a simple maze. Losing yourself here would be impossible.
Using salt creates texture during in the painting process. It's results dominating the top left of the picture. Elsewhere wandering ink tendrils branch out, reaching for sky and any open space that will let them roam.
An exhibition in Woodstock resulted in this painting of Catz Oxford, also known as St Catherine's. Virtual Archive, a photographic print company based outside Oxford, asked me to create a series of paintings of the modern Oxford colleges.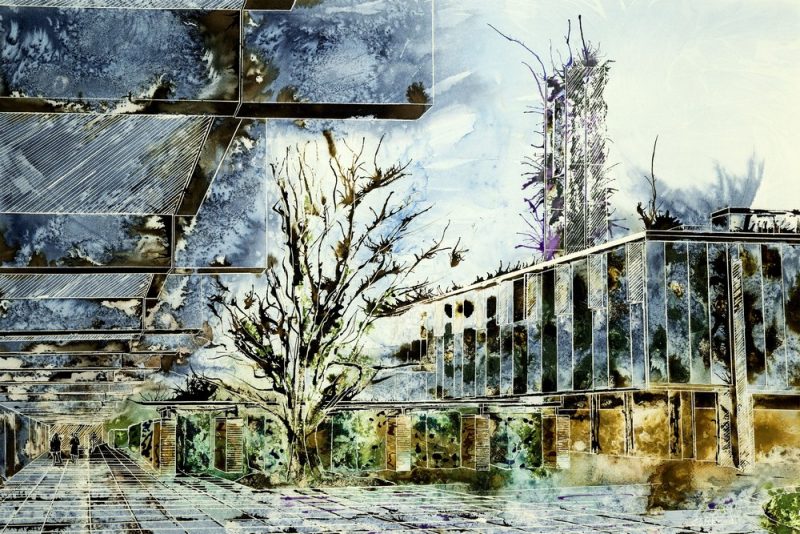 This isn't the only painting of Caz, Oxford. I also painted the Moat, which you can see in my Oxford Portfolio, along with paintings of other Colleges.