As soon as I started creating art inspired by architecture I was keen to create a painting of the Gherkin. Touching the Sky was the first and there have been a few others since. 30 St Mary's Axe is a familiar sight in London and instantly recognisable around the world as the Gherkin. It's a thing of beauty and also a nightmare to draw.
Creating an approximation of the shape was an option, but, for this painting to work properly, the drawing needed to be accurate and feel solid. Those lines curve and must intersect at JUST the right spot.
Queue numerous lines drawn and erased. After several "I've had enough of this why don't I just quit!" moments and an awful lot of coffee.
Eventually, I ended up with this.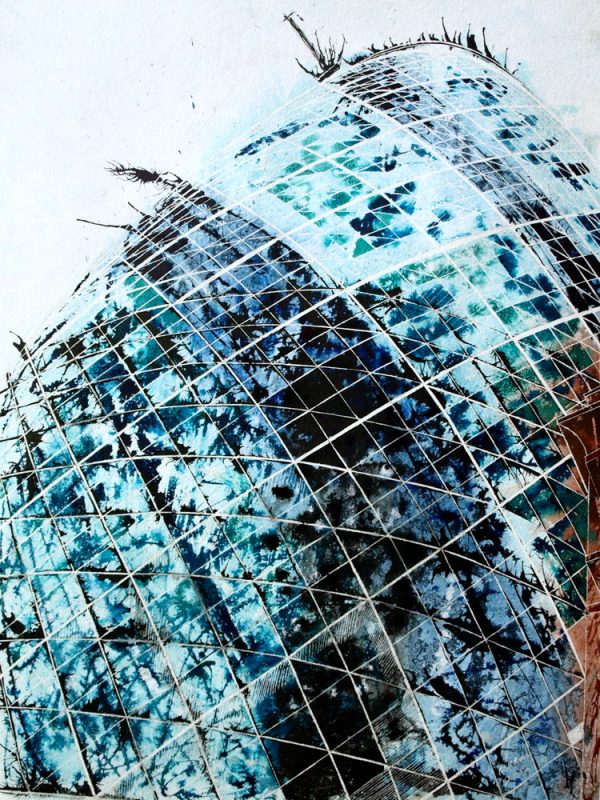 Often as an artist, you are happy with a painting when it's completed. After some time, that sense of achievement diminishes. When you look at older work, you find so many faults. However, this version of a Gherkin painting still works for me. Others have fared less well. I think it's the scale and close focus. It's a subject that needs space and proximity, if that's not an oxymoron.
Touching the Sky is the subject of another post I wrote as part of the 30 Painting tour of London.