Wolfson College is the first of the Modern face of Oxford paintings to be created for V A Prints. Oxford has such a historic reputation we wanted to reflect that it has contemporary side too. Enter the Wolfson college painting of a view from the Rainbow Bridge.
Perched on the bank of the Cherwell river, this perspective from the rainbow bridge lends a sense of movement which leads the eye through the Wolfson College painting. Any student in Oxford knows the river and spends time there. They also know that the Cherwell is the place to go for punting and the Rainbow Bridge a familiar landmark along the route. Passing by at river level, the buildings are partly obscured. Only those from or visiting Wolfson will be familiar with this view.
I had to experiment with the photography angles to find a position which gave a sense of the building, without making it feel like a giant square block. As with all my paintings I was looking for a view that students would recognise. One that perhaps wasn't automatically associated with the Medieval town would convey a distinctive image of a contemporary university.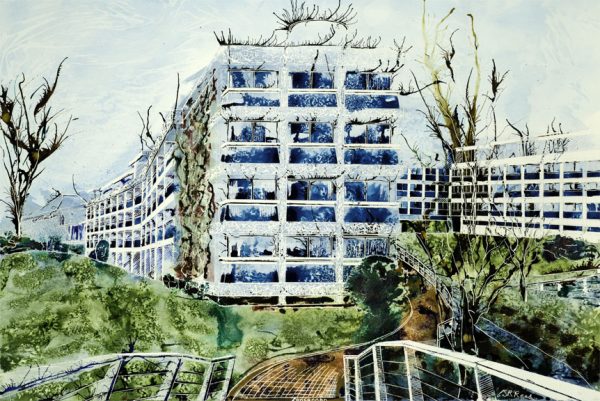 Like to see the rest of the Oxford paintings? Check out my Oxford portfolio.
See the other paintings of Modern Oxford Colleges by Cathy Read.