At the beginning of a new year and new decade, I thought I'd start posting a Painting of the week. During the series I'll be looking back at paintings created a few years ago, to see how my art has changed over the years. The Hints of Science Fiction painting reminds me of something from my own childhood that I'm now reliving through my own children. A blue box suspended in time and space…
Looking at Hints of Science Fiction created in 2013 I see something familiar. The image leans to the abstract. Inspired by a staircase in Manchester Art Gallery. These colours and shapes evoke memories of the old blue police phonebox, as seen on Dr Who. Purely coincidental, or maybe it was subliminal?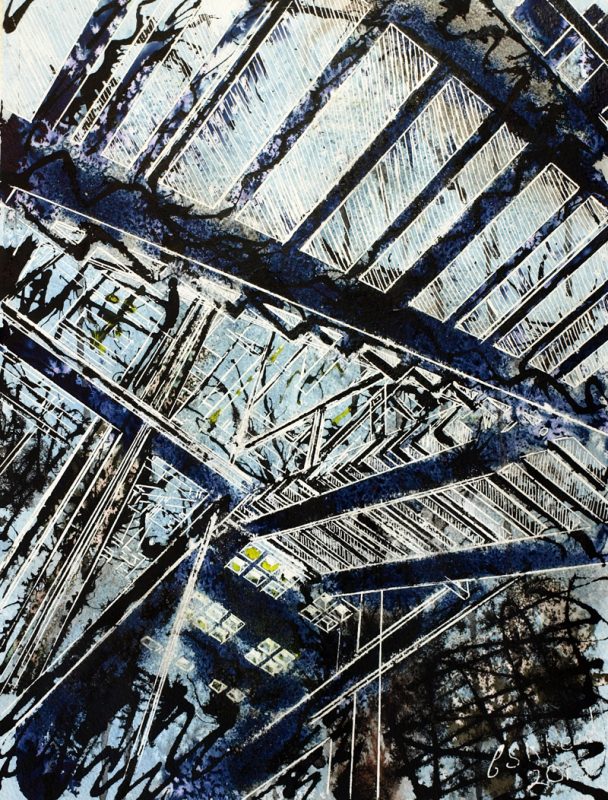 A science fiction painting with a nod to geometry and chaos in the inkwork. Explosive colours mingle with dark shadows hiding any details in between. The other worldliness pervades and also hints at this being a distant planet. As yet, I haven't detected any aliens, but give it time and, with a little imagination, maybe you'll see one?
If you'd like to see more of my art, as it's created, sign up for my newsletter and here what's new from the studio.
I'd love to inspire you with my latest creations and news of events.