Welsh Ayr Painting
Summing up a nation with a single image is always a challenge. To me Wales, counjours up castles, songs and a love for home, albeit more of a home from home for me. That's what the Welsh Ayr painting is about.
Caernarfon Castle dominates with the tower on the right hand side and the wall around the town skirting the shoreline with a few more contemporary buildings poking out in front and above. The white buildings is a pub/hotel, an essential feature of a Welsh town or any British town for that matter.
Caernarfon castle has stood for centuries, a symbol of stability, power and oppression. It feels permanent. Castles are synonymous with Wales, we have romanticised them. And chose not to dwell on their bloody past but that is history now. These days castles are more a symbol of tourism.
The bulk of the painting is sky and, across that sky, the music and words for the song "We'll keep a welcome" (in the Hillside). The pairing of the solid castle and transient nature of song was deliberate. The contrast being the permanence and trancience of home.
The painting is a personal one. Our last family holiday with both our parents was to nearby Porthmadog and we visited Caernarfon as part of it. The whole area holds special memories of happy times. North Wales was our default holiday destination, and still is.
The song was a favourite of my mother's who loved Welsh Male Voice choirs and anything sung by Harry Secombe. It reminds me of childhood days and an old valve radio that my parents used,right up until the '80s. That sound quality is very different to that heard on digital players. I won't say better, just different, warmer perhaps.
I chose the music because Wales and music go hand in hand. The tales of miners singing to keep their spirits up in the darkness impressed me greatly, so song had to appear, but how to depict song? Sheet music was the logical choice, It could be any Welsh melody, I chose this one because it speaks of a love for a land and that ethereal concept of home. Formed in childhood, shaped as we grow and move on.
Home becomes synonymous with our childhood, the first house we remember and, even when we make our own homes later on, we look back fondly on the things we cherished in childhood.
We leave our parental homes and they change, even though we return for visits. They will never be the same. The changes are subtle at first, but become more pronounced as we age. Someday we may fail to recognise what was once our home. It may just be the house or the entire neighbourhood.
The memory though will linger, reignited by photographs, a smell, a random phrase or tune. Then it all comes flooding back to us and we're a child playing, with a mother singing. "We;ll keep a welcome…" somewhere in the house. Or maybe something else.
I miss the singing!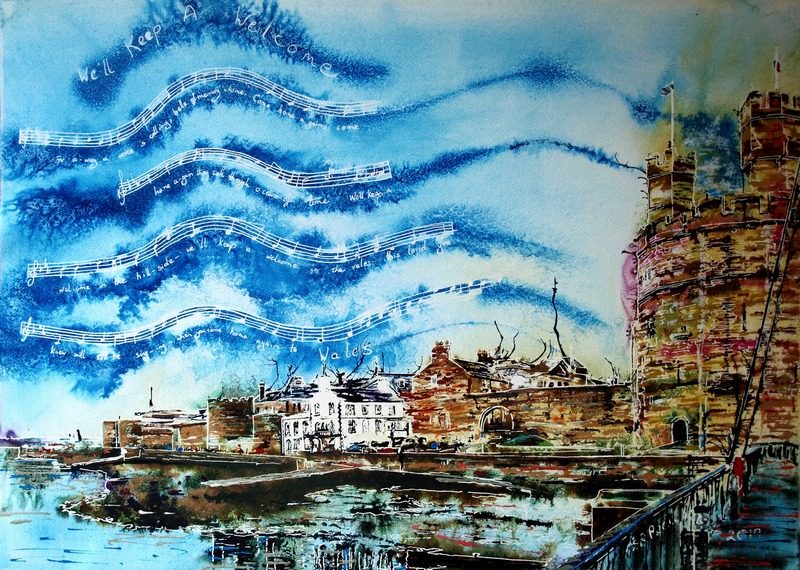 ---
Welsh Ayr painting and Welsh Industry painting were created as a pair for the Welsh Open. They are both for sale in my shop.