At first it's hard to figure out what you're looking at in this image. Painting Battersea Power Stations Reflections in a mirror like pool. I say mirror-like because it's almost smooth, but not quite. Gentle ripples ride accross the surface as a delicate breeze disrupts the surface. The water flows along the left hand side, gliding over the edge. A constant flow, the liquid rippling at the precipice before plunging into the channel below. There to disappear. Presumably there's a pump that circulates the water, but it's not visible here.
The surface reflects the Battersea Power station framed in this strange polygon of a pool, not square and not triangular. The inverted riverside chimneys glow brightly in the cool blue waters. On the right wall of the pond is a broad flat structure. I wonder how many chidren have used it as their own personal pathway? The power station itself is hard to distinguish amidst the ripples. Walls and scaffolding merge together in a red/brown haze.
In the distance you can make out the figures as people mill around going about their business.
Look closely and you'll see blooms of ink and jagged trails as the irridescent ink had been layerd on top of previous washes and colour explosions.
Order and chaos prevail. The structured lines providing a scaffolding to splurges of paint. There's an dominant V shape that draws the eye down and upwards. The path, far right tries to create some control but chaotic yellow puddles stop it in its tracks.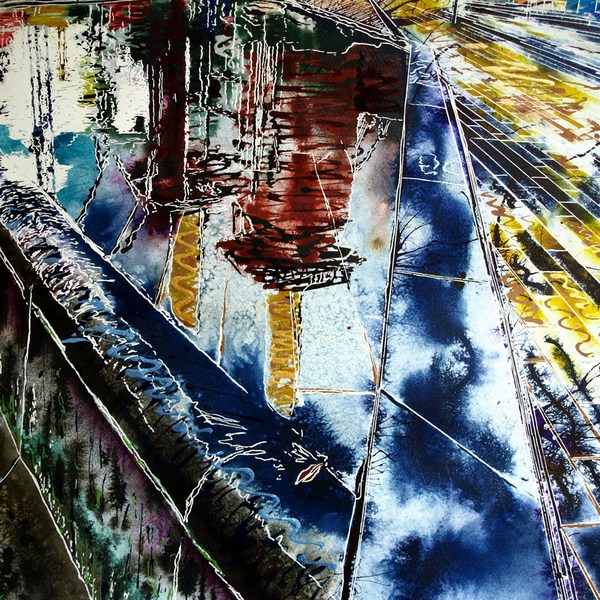 The painting Battersea Reflections is one of my London paintings. You can see more in my Portfolio.
Curious to see more London Paintings?