Looking at my National Memorial Painting I cannot help a meditating on the poppy.
The first thing that you notice it's red. An atmospheric swathe of textured red fills less than half the image.
Red for poppies representing red for blood. 10,000 ceramic poppies were placed in and around the Tower of London in 2014 to mark the beginning of the Great War. The First World War as we know It now.
A poignant exercise representing the number lost. Each individual poppy represents one of 888,246 British soldiers who died during the conflict. When viewed close to, the individual poppies can be seen but the sea of red is unmistakable. People crowd around peering over the walls or joining the queue to walk past, those in the foreground. Some carry umbrellas to fend off the rain on this wet October day.
Parents have brought their children to pay respects to those lost a century ago, fighting for King and Country. The mood was sombre and reflective. The Individuals lost almost beyond the reach of living memory. A loss which shaped Nations and the world permanently. Perhaps the visitors were told stories, as I was at my great uncle Albert lost in battle in December 1917. A photo of him in uniform, treated with reverence and respect. "That's Uncle Albert, missing presumed dead" and of how the one and only time he kissed his sister Victoria was the last time he saw her, as if he knew his fate.
The Union Flag umbrella raised against the poppies a sign of respect and national pride. Within the mass of poppies you can make out figures other people still placing the poppies, this was nearly a fortnight before Armistice day.
In the distance you see another queue as vast as the one in the foreground. Most of that one is hidden from sight.
The Tower of London frames the scene. A building which normally commands centre stage but rightfully taking a backseat to the memorial. A few lines and textures defining its walls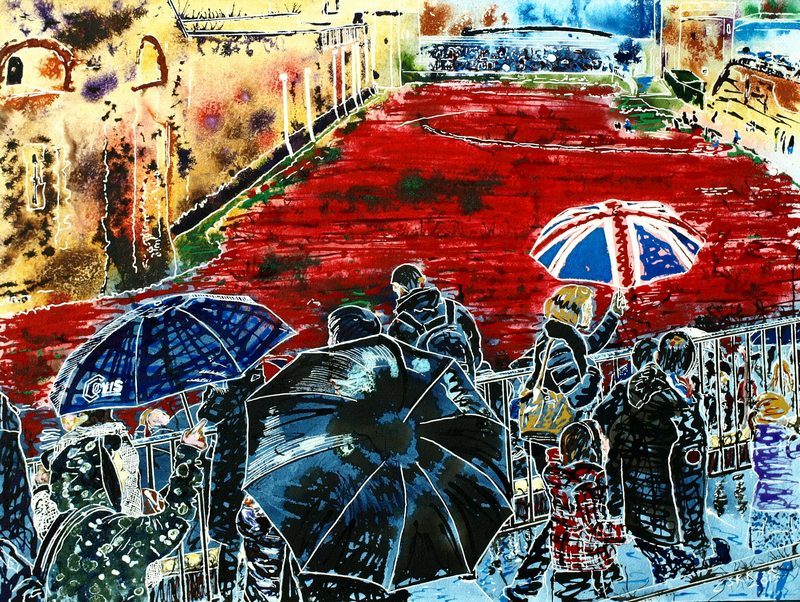 Love this painting? There are more London paintings in my portfolio.
Curious to see more London Paintings?