16 Handrail
Handrail painting meditations, another strange place to begin. When I started these reflections on painitngs I often had deep thoughts, and this inspired me. At others I tended to be carried away with poetic verse. Even the most mundane of objects can inspire; sometimes it's deep thoughts and at others a work of art. This is the case of the latter. So let me draw your attention to the details, and maybe something deep will come to you.
The handrail takes centre stage. Functional with some minor embellishments, like the round ferrule/cap on the lower post. The railing is well used and paint is peeling off. Bright blue high-lights show where the sun is shining off the black paintwork. The blue is carried around the painting, you see its echoes in the cars parked at the back. These also shine white in the sun.
There's a large gnarled tree in the top left hand corner, surrounded by greenery. Leaves and plants ranging from dark olive to emerald green.
The steps are suggested with a few lines but mainly paint. Some signs of wear are apparent in colours of sandy brown with hints of purple and black. The brown ink bloom on the slope beneath the rails reaches up as if trying to climb the slope. If that were possible.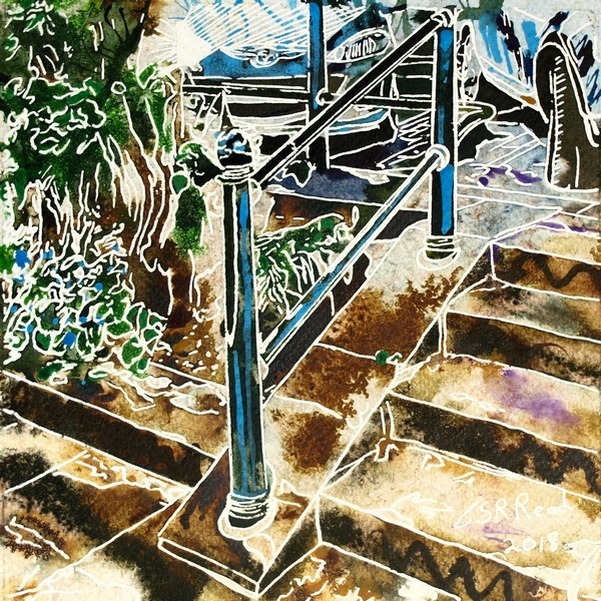 16 Handrail painting is available for sale.