20 Fenchurch Street is one of those buildings that people either love or hate. It evokes strong emotions because it is so different to the surrounding architecture. Towering overhead in this Walkie Talkie painting, it inspires that sense of looming that tall buildings convey. Older buildings of Leadenhall Market gather around, as if to crowd out the interloper.
Everything about this building screams "out of place, contemporary". A wall of curved windows surrounded by a white shell. Looking like an early mobile phone and once the monika was attached the name struck.
Georgian and Regency architecture, occupies the lower painting. Hints of grand opulence in the intricate ironwork. Like the brackets of the 2 street lights on the walls. White painted windows and dark awnings made from multiple smaller panes. A little dome roof on the far terrace building. All framed in red and ochre brickwork.
The Walkie Talkie building appears as a leaning tower, eavesdropping on a conversation. It tries to get in on the act. If tall buildings could think what would they say? Would they be interested in the goings on around them or in our little lives?
This misfit doesn't care, as it continues hogging your attention as bold as brass. Whatever you might think, the Walkie Talkie is here to stay.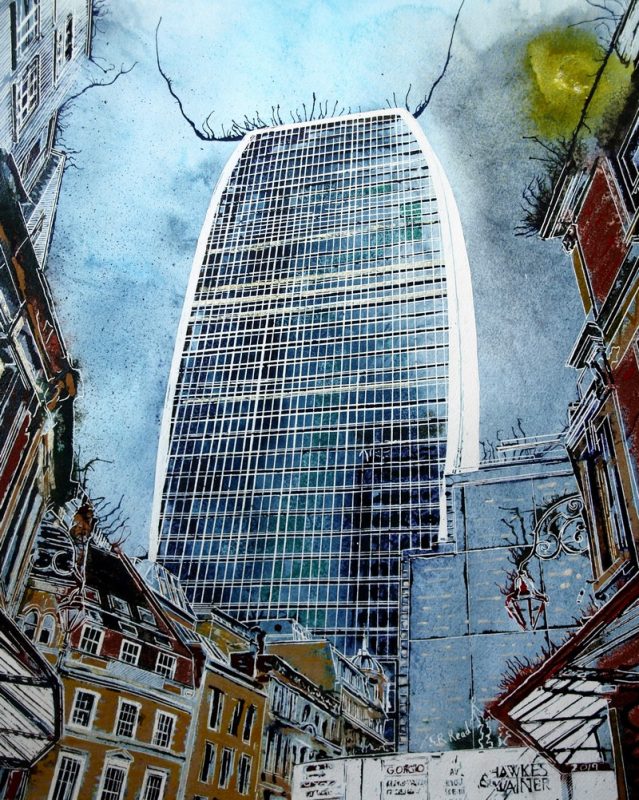 The Walkie Talkie Painting is one of my London Series. You can see more of the collection on the portolio page.
Curious to see more London Paintings?