Have you ever looked at a picture and thought "What exactly am I looking at here?" That was the mystery in my Canary Wharf Painting.
It happens a lot at art exhibitions and, from time to time, in real life as well. It's what I thought when I came across the reference photo. Taken some years ago, on a day trip to London. Presumably I took the image because I loved the shape of the strange pod and how it reminded me of honeycomb, but not quite. Honeycomb uses an efficient, space preserving structure. This has little triangles added which waste space. What's that all about? It reminds me of the patterns used on wooden screens I'd seen at the Victoria and Albert Museum.
Anyway, I took the photo, with the backdrop of the Canary Wharf buildings and moved onto the next picture. I obviously thought I'd remember what it was.
Queue some years later, searching through photographs looking for the next project, this one caught my eye. And obviously, I was wrong, I'd no idea what it is…and it isn't there now, so checking on site is impossible.
What on earth is it? It could have been some booth set up to educate, or as part of a campaign, but, if I'm honest, I hadn't got a clue, it was taken years ago!
Somebody will know, I thought, but finding out seemed impossible, so should I content myself with a mystery in my Canary Wharf painting? The obvious answer in the 21st Century is the internet…
Usually searching online is quite straightforward. But try looking for anything including the words "millennium dome" in the search, and you'll see my problem.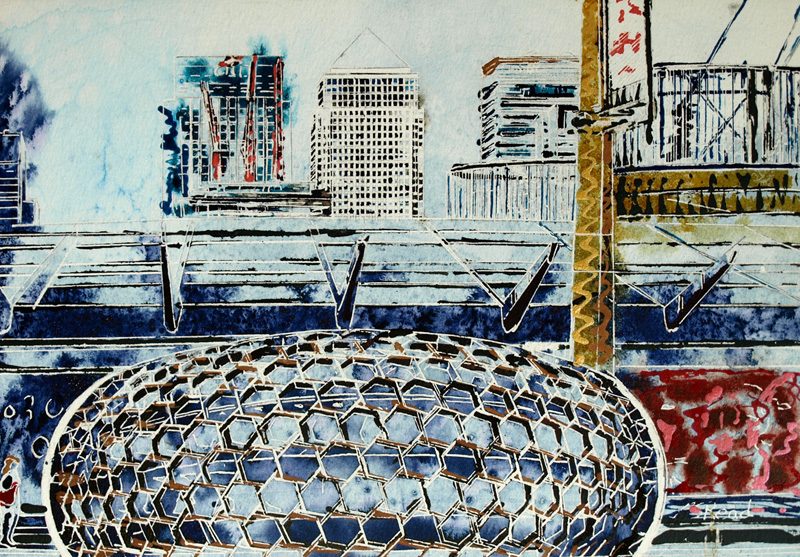 It took a while, but finally, I found it. It's the Kreod Pavillion! There's a bit more about it here but the short version is, it's an art installation created in 2012. Remember what I said about saying "What exactly am I looking at?" and the connection with art?".
I might have known!
If you'd like to see some less mysterious buildings, check out the ones I do know in my portfolio.
Curious to see more London Paintings?