The brown trefoil leaf and iron curls dominate the railings painting. The rest of the features are rough and incomplete. A mix of dark tones wrestle for space as the colours expand from their original places. Dark, nut brown, indigo and black merge together in a casual manner. We're standing in front of the Royal Academy of Art looking through wrought ironwork to the road beyond. Bold Arches of colour in the distinct foreground contrasts with blurry street scene. Piccadilly's iconic shop fronts lost in a mishmash of colour and white line. Even the traffic on the road between lacks clarity. There's a bus, car and a taxi with no sign of movement, Frozen in time, destinations unknown, passengers and drivers unseen. Braving the city traffic to go who knows where?
Ink marks are bold at times and faltering in others. The R A railings painting is very dark indeed, but the fine white lines help to lift the impending gloom and suggest form and shape in what could easily become lost in dark and shadow.
The central leaf is standing tall, formed by fluid strokes, flanked by strong curves, yes, but they lack smoothness. Beaten by time, or the weather, perhaps? Wrought, or drawn, that way.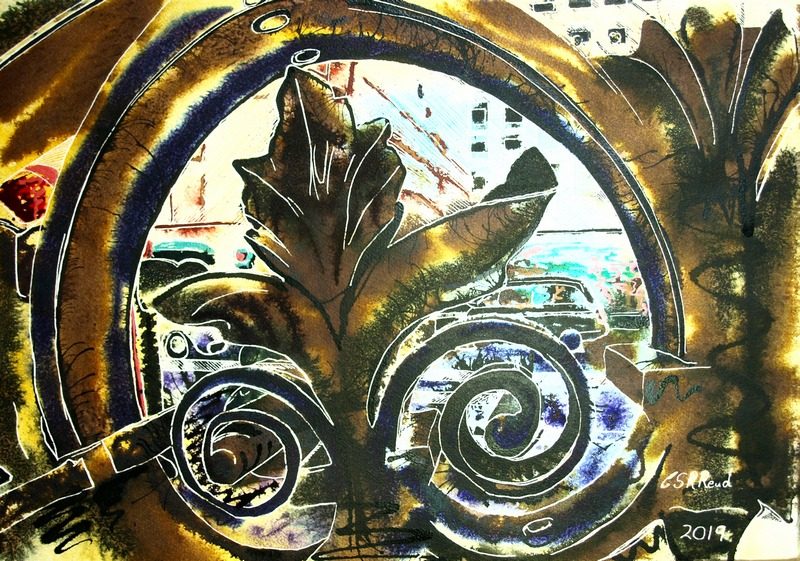 Enjoy this post and want to see more new paintings. Let me share my latest paintings with you. I send out images of my latest paintngs as well as invitations and work being created .about once a fortnight. I just need to know where to send them.