Strong, resolute, Portcullis House owes much to the history of the United Kingdom. Its name and shape suggest that ancient security device, the portcullis. but its style is distinctly 21st century. The roof tiling forms trapezoid shape fanning out to the bottom edge. Lines that continue straight down the walls as tall columns, spaced out by windows. Floor level bands create horizontal stripes. The combination of columns and band create the impression of a grid. The shape is reminiscent of the gridwork iron gate that lends its name to this imposing building. That's where the similarity ends. Portcullis House is aptly named although the security it affords is far more subtle that the name suggests. You'd need to venture within to find out how, and, as you're not allowed to take photographs inside, I can't show you.
The lower edge of the building had been softened as a line of trees break the continuous grid. Variagated greens and yellows suggest soft, undulating foliage.
To the right, a single black globe light topped with a crown. At this angle it looks twisted, although in reality, it's not. On the far right, hints of ochre and earth brown suggest an ancient grander building. That is Elizabeth tower, as offiianados would call it. Otherwise known to us as Big Ben. The Tower being the home to the great bell itself.
In the foreground is the top of a fountain sculpture, the Jubilee fountain in New Palace Yard. 2 skeletal creatures can just be made out. Behind them a gold crown encircles the top and below other vague organic shapes hint at the nature of the creatures in the Centre.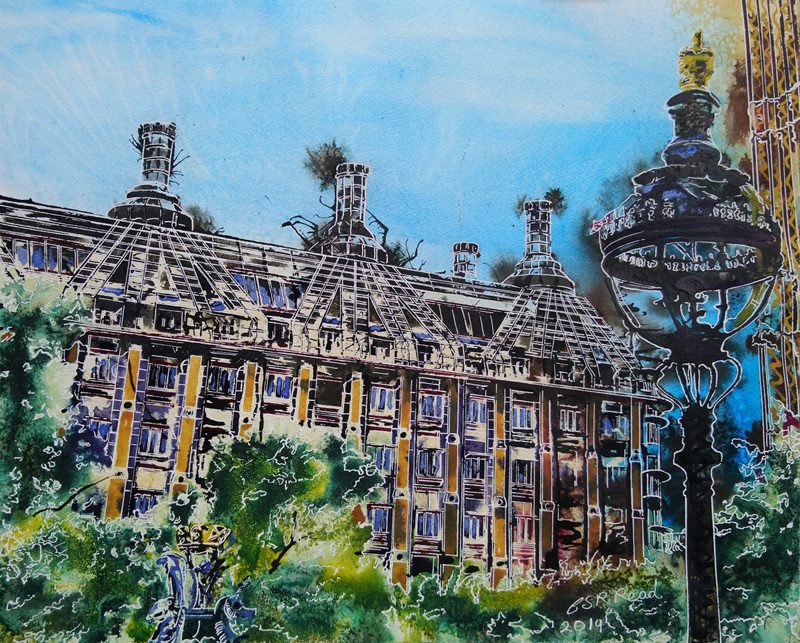 Seems appropriate to be posting on a day when Parliament has just closed itself. At a time when it should be open and sorting out our current political crisis, not hiding behind a metaphorical portcullis.
If you enjoyed this painting, I have more London paintings in my portfolio.