Viewing above street level across this London Church painting, there's a black canopy providing shade over the seats and tables in the bottom right. One wonders whether the people below notice the scene as they drink, dine and chat. Blue Spire of St James's raises up. It's a warm, summer day, we can't see, but the street below is busy. There's a rumble of traffic and voices mingle as the various conversations merge into a constant noise. You might catch the odd word, but it's just noise otherwise.
You sit back and look up. Strings of fairy lights festoon the street. They look strange and out of place in the daytime. The magical light they give at night, just a memory. Functional, ordinary even and yet they make the place feel special.
The colourful buildings converge into a V shape with St James's church framed at the centre. The Tower rising up and crowned with a blue spire. It dominates and yet manages to vanish in the bright blue sky. Purple clouds of ink have seeped into the background. The adjacent buildings are hard to distinguish, outlined in white but colours drawn from the surrounding structures, they have no colour of their own.
Golden yellow is reflected in the walls on the left, brilliant against the dark hues of brown and red earth found to the right. Details of carved stonework, plaster mouldings and curved ironwork suggest splendour in the right hand architecture but none quite match the restrained elegance of the spire with its glowing yellow numerals.
If the people below happen to look up, I wonder if they might notice the London Church in the painting all?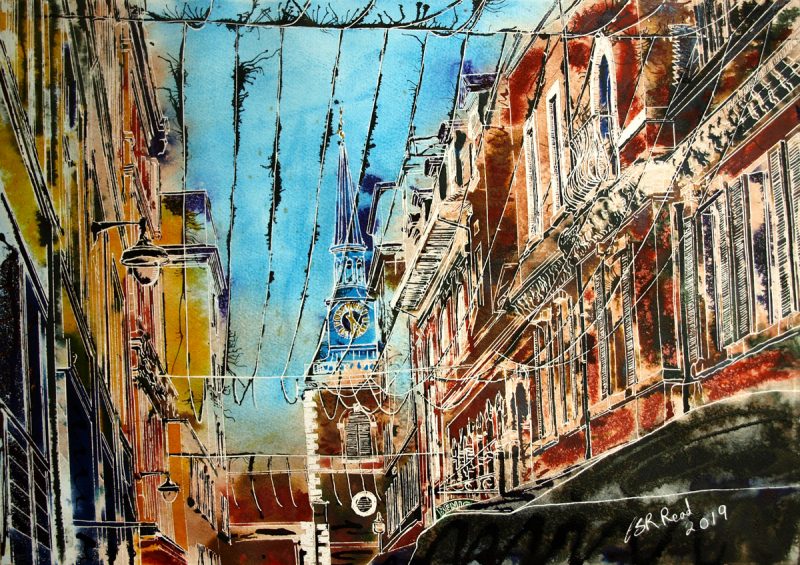 The Blue Spire of St James's is one of my London Series, you can see more in my portfolio
Curious to see more London Paintings?