The Charing Cross painting is one that exploits dark and light. The strong black railings frame the taxi, streetlight and Charing Cross Hotel behind. Bold blacks and blues form elegant shapes defined by white lines. Black squiggles trace their way down the columns, highlights picked out in white ehphasise the texture formed by layers of paint built up over years.
The two wrought iron flourishes seem to have stretched out in an attempt to unfurl themselves, stopping partway, allowing us to admire thier curls. Vaguely suggesing musical staves or uncoiling plants seeking sunshine.
The colours are sombre, but occasional spots of vibrancy catch your eye. The yellow number plate and red lights of the taxi, golden lines just beyond the railings, an orange glow in the fanlight. Small amounts of colour that lift the scene and emphasise the darkness of the railings and the taxi.
Behind the windows of the Charing Cross Hotel stand to attention. There, above the balcony bright white, dazzling behind an intricate railing. Its details lost in the distance. Between each window stand pots of small shrubs or are they Christmas trees? They could be and, in all honesty, I cannot remember.
Between the railings and the Hotel are a street light and a taxi. The street light glows but its light is lost in the daylight. The taxi is hard to make out initially. So caught up are we in the railings and hotel. The colours mirror the railings and its details are lost in the twists and turns of the iron boundary. A boarder that hints at fragility and elegance but that look defies its permanence and strength.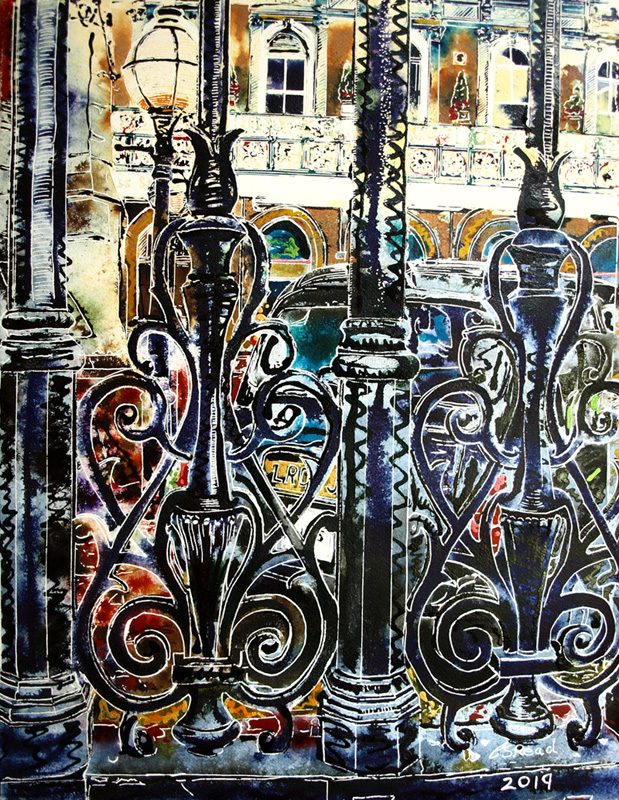 You can see the creation of Charing Cross Station in previous blog post.