Red Boat on the Thames watercolour Painting meditations.
St Paul's rises above the turquoise sky with expandng clouds. Pale grandeur over a busy scene. Dark indigo bleeds upwards, hovering ominously over a "sunny day". Is menace afoot or will it pass by?
The hot sun has brought all the world out to enjoy this summer's day. In th foreground, a group of three women stroll along chatting. One pushes a buggy, but those details have been lost in the railings and outline of a bicycle. Another pedestrian looking at the river, passes by a vanishing bicycle, swallowed by the railings on the bottom right.
Bottom left, two people pass one another, or do they? They could easily be a couple lost in conversation.
Barriers are everywhere. The workmen's temporary ones. The South bank railings, the curved Millennium Bridge ones. It reminds me of an elongated sea creature, stretching accross the water, undulating as it works its way forward. The railings form rings, a row of sections pieced together to form the whole. Hints of colour and outlines depict the mass of people following its course to the side.
The North bank buildings form a wall of glass, stone and brick behind the Thames watercolour painting. Differing syles with unltimately the same perpose. To provide a base of operations to business and the school. The hard geometry broken by softer lines of trees.
Below the central support of the Bridge, a long red tourist boat travels down the Thames. A white wake marking its progress. People on board, caught up in the moment. Chatting, looking and pointing.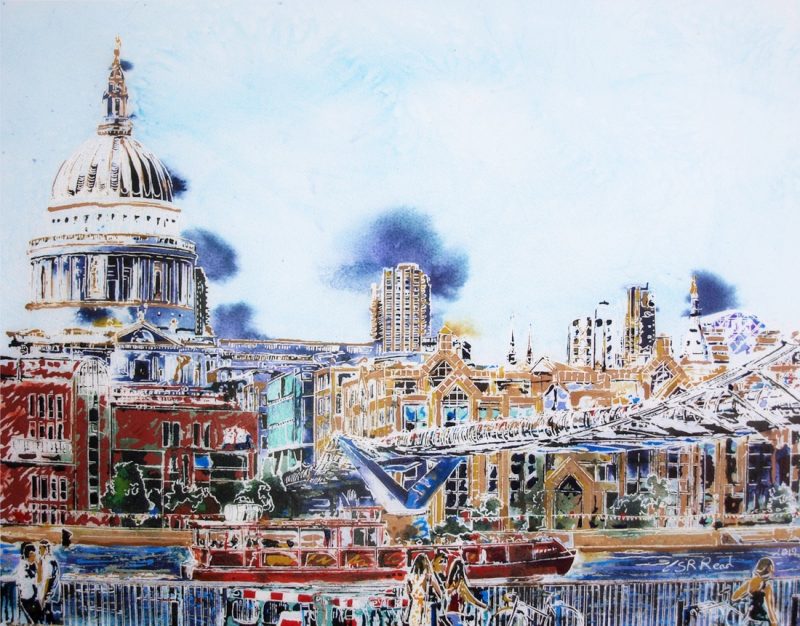 Red boat on the Thames is one of my London Series. You can check them out along with other Thames paintings in the link below.