Royal Opera House
The Royal Opera House painting shows the impressive side of the building. With a name like that you expect it to be grand and it doesn't disappoint.
A fan window, of grand proportions, practically fills the painting. Like a fan, its spars are visible and clearly defined, as is the decoration. You can see through the panes to the roof behind and above. Delicate but strong, allowing light to flood the space below.
Decoration is crammed into every feature. Lattice work, lace edges, circles, keystoning, rebates etc. You have to look away, the senses are so overwhelmed.
There's a muted rainbow of colour everywhere you look. Deep reds, blues and greens sit happily adjacent to one another. The colours are not fighting to be seen, but wait patiently until you notice them. Give them time and you will notice them. How many can you count?
On a building as heavily decorated as this, it's easy to miss details. Like the diagonal spars on the central window that form little kite shapes fanning out from the central hub Or the carved details either side of the arched windows. Details emerge and blend into the background as you focus your attention for a while. Then look away as another point catches your attention.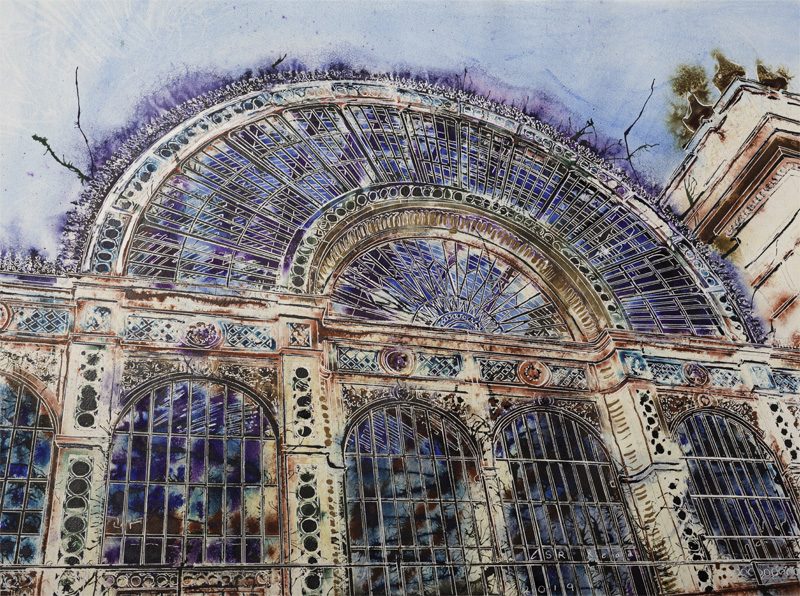 The section of building featuring in the Royal Opera House painting is the iconic Floral Hall, known as the Paul Hamlyn Hall following recent refurbishment. The grandeur of the surrounding reflects the grandeur of the performances and the buildings history which is too long to be include here, this is the third version which opened in 1858 and has been developed further. With such a history, it's hardly surprising that the Royal Opera House is the place of worship for opera lovers everywhere.