In 2017, Bahlsen LLP approached me to create 2 paintings for reception area. One of their new headquarters in the UK and Ireland and the other of their historic headquarters in Germany

Bahlsen 1 – Chalfont St Peter
The first one is the one inspired by their base in Chalfont St Peter. The brief was to reflect the local area, Bahlsen is a family run business and they wanted the painting to reflect their desire to be an active part of the local community.
I used photoshop to create rough drafts and we played around with the various elements until we were all happy with the composition.
Being such large pieces proved challenging, not least the fact I needed 2 easels to support them while I was marking out the image. I then had to use 2 boards taped together on top of my plan chest to support the pieces during painting. While blowing the ink around in the central areas I had to stand on chairs and place hands strategically so I didn't fall onto the wet inks.
I can now reveal the finished paintings…
First the Chalfont piece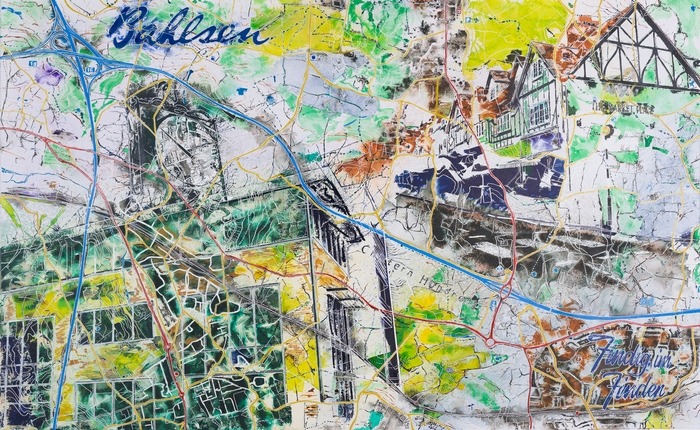 The basis is the OS map of the area, turned upside down. Most of the names were omited. The modern building is their UK HQ and the other images were taken in the local area. It was a fascinating project to work on and gave me the opportunity to experiment and develop some new ideas. I can see more of these in the future.
Bahlsen 2 – Hanover Stammhaus
The second painting is of their Original Bahlsen HQ in Hanover. I was sent to take pictures. Here's one of them taken on a very grey November day.

It could have been worse. When we were on the plane ready to depart, the pilot informed us there was fog in Hanover. It was only just clearing as we landed. Although it never did go away completely.
Back in the UK I edited down the pictures and sent the ones I thought would work best to Annette, my contact at Bahlsen. We agreed on a composition that showed the building, including the "Pretzel Men" with the golden biscuit. A famous feature, known locally and the subject of a kidnapping – well the golden biscuit was. You can read about it here.
Being a more conventional composition allowed more freedom for the inks and paint to move around. I decided to add some colour, reflecting the famous stained glass windows by Adolf Hölzel in the boardroom. As you can see, they are something to behold.
Here's the finished Honover painting.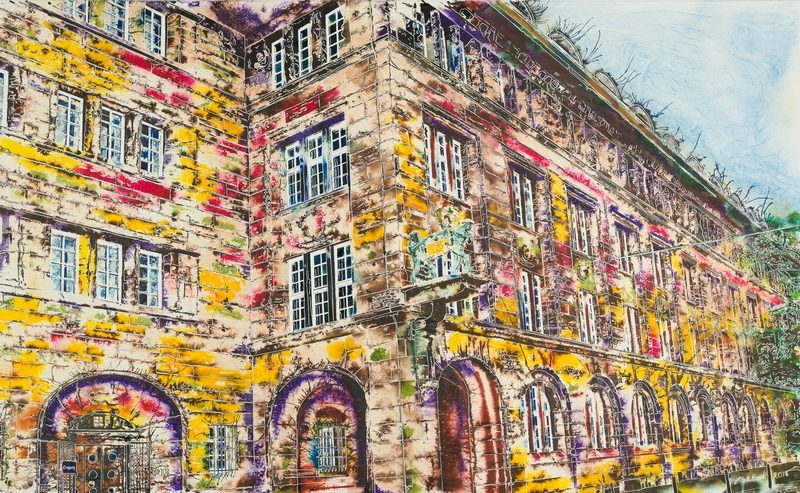 Here they are framed and installed.
Looking forward to doing more big pieces like this in the future, even with the challenges, I'm convinced I need to work big, even bigger than this.
Like what you see?
Interested in commissioning a painting? Call me to discus your needs, no matter how large or small. on 07818240116 or you can email cathy@cathyreadart.com.