Usualy, I shy away from thatched roof paintings. They are always in serious danger of becoming twee. The subject's been overdone. It's chocolate Box art at it's most familiar. Don't get me wrong, I love thatched cottages, it's just there as so many paintings of them.
The Thatched roof painting of a cottage is quintessentially English and charming examples are dotted around the countryside. Most cities have eliminated thatched rooves due to fire risks. a few notable examples such as The Globe theare in London exist, but the vast majority are in the country. They evoke a sense of history. Romatic notions of country life, most of which are long past. The country, like everywhere else, has been modernised. Yet we hark back to a time when rural life was seen as simpler and we were connected to nature, making our homes out of natural materials, wood, stone and straw set in idillic gardens with trees and roses. Especially if you live in a city and grow tired of stone, concrete, glass etc everywhere you look. Having to travel to find green.
Which is why I find a thatched roof painting is very easy to make cute. Like paintings of dogs and cats, they just are. I'm not usually known for being cute.
Have I've managed to pull it off this time? I'm not so sure…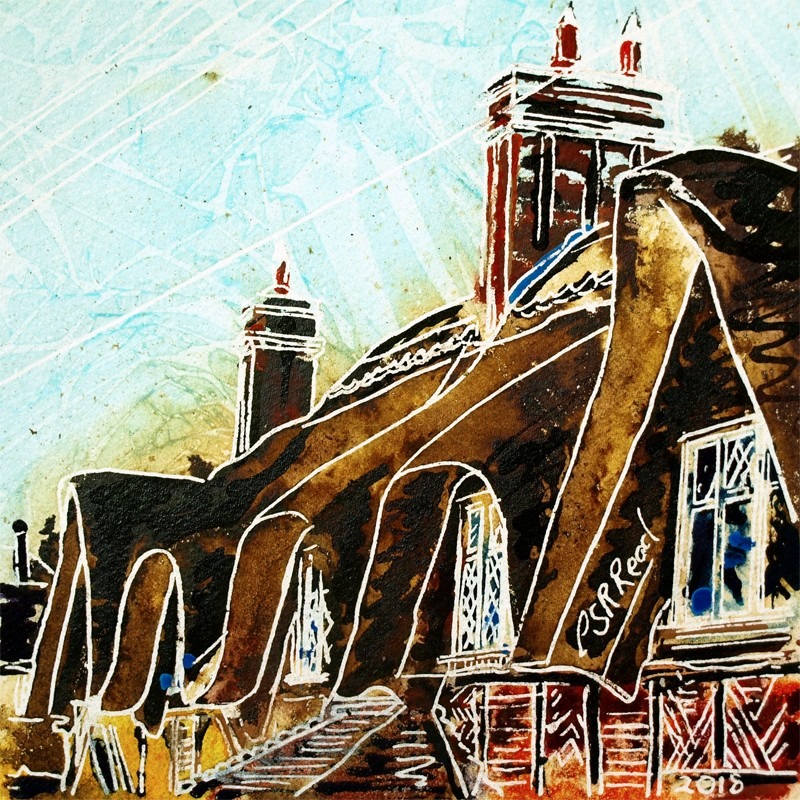 So, where is it? Well it's a pub, and it's in one of the villages. Over to you.
Answer: 45 was in Fleece Yard looking back and up at the rear of the shops.
Number 46 Thatched Roof is part of Cathy Read's 4950 series.