Manchester Blue
Where to begin describing this painting . The Etihad stadium or Manchester City's football ground. A place dear to the heart of the supporters. A building designed with crowds all football fans in mind . The numerous spiralling walkways that lead into or out of the ground. The blue wall listing the names of supporters, in recognition of what really makes anything great. The body of loyal fans who turn up, come rain or shine, to witness success or defeat all in the name of the beautiful game and Manchester City football team.
The stadium dominates the image.
The arc of the roof spangled with fireworks like speckles of light blue against the indigo darkness. Structure and form mark out stadium below. The walls of glass tinting them green and yellow in an otherwise blue scene. A lone speck of red on the team's crest., in recognition of their Lancashire heritage. The golden yellow ship hinting at the ship canal and Manchester's trading past. Then the date 1894 when the team was formed. The Etihad stadium is a relaatively recent edition to the City's history, Moving there from it's old Maine road ground in 2003.
Look at the windows you'll see reflections of the supports, with long cables taught under the weight, and adding a hint of delicacy to an otherwise solid structure.
The paint is applied in swathes of texture, with ink layered on top in energetic squiggles, like the weaving of a footballer dribbling the ball across the pitch, with a view to reaching the goal.
Signs are everywhere Welcome to Manchester City and emblazoned above the East stand entrance. Above that the Etihad stadium and the team's crest. Other less distinct signs direct the flow of the crowd.
In the foreground tubs of shrubs soften the scene, in a way that won't limit the fans access and protects them from the surge of the crowd keen to be there in time for Kick off or to hurry home or maybe to the pub. There to celebrate our commiserate with fellow fans. Either way this is a place where memories are made. Hopes won or lost for those who live and breath Manchester City, the football team.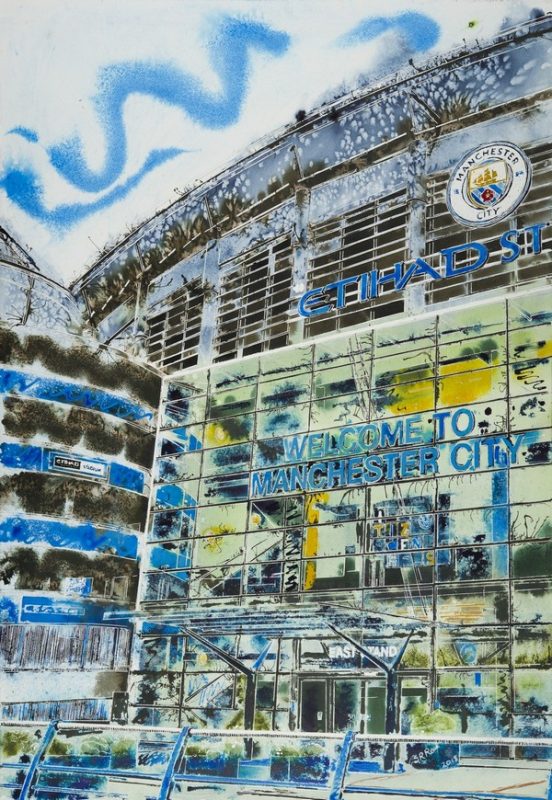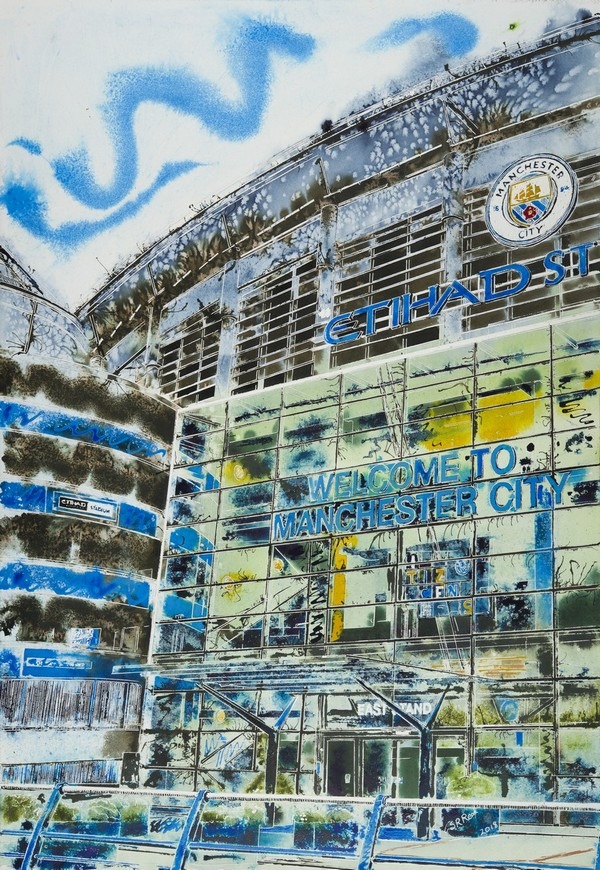 Prints of this painting are available.