The Battersea Power Station painting is a story of energy.
Battersea Power Station abandoned and neglected for years. The source of London's power besides the Thames the source/cause of London's power in trade and Commerce. Both key to the success of the great city. Battersea Reborn is the moment when the old life of the station ended and the new life of luxury began.
The cranes tower over the power station, there to help with the removal of the old and the construction of the new. Note the structure, the cross bracing that makes crane towers strong but elegant. There's a romance about a crane in a gritty, urban way.
The whole scene is gritty and urban.
The two Trains, about to pass each other on the railway bridge; The chimney stacks of the power station; The Arches of the railway bridge, with more girders than seems necessary but probably are.
Down below, the waters of the Thames flow past. Rippled by the wind, branches of trees cry to the sky, you can almost see them waving in the breeze. The colours are earthy with a hint of marine blue, occasional patches of pink and mustard yellow soften the scene and distract from the hard edges of the bridge, train, cranes and power station. Angular white lines, dark geometry and chromatography combined.
Look closely and you'll see feather like patterns and blooms formed by salt and water breaking up the blocks of dense colour.
Shift your eyes from the mottled sky, framed by leaves through the industrial area of power and construction. Transporting you down through the railway bridge to the flowing Thames below. All in the space of one scene. Then there's life wafted in from the sides but teaming below the water, we presume.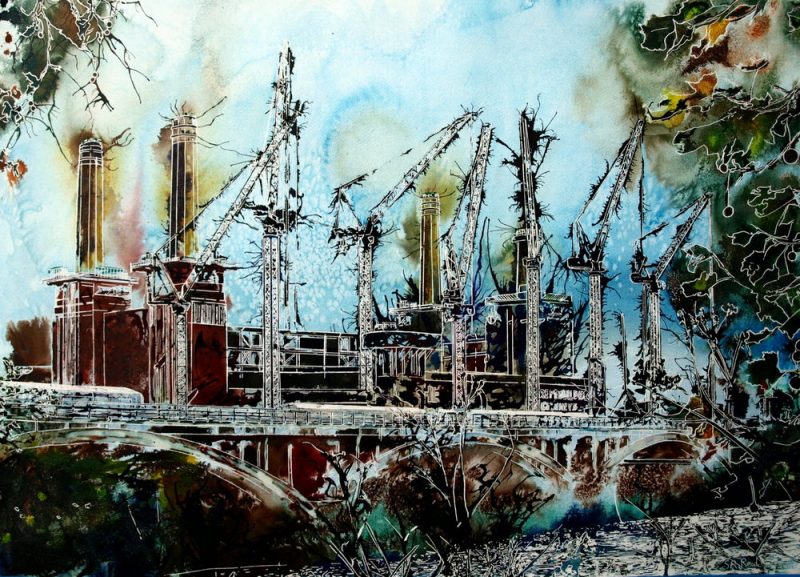 ---
Battersea Reborn is available for sale