Take your time looking at the Police Boat painting. You initially see darkness only lifted by the large cream building in the background. Look closely, there are traces of lilac and purple trailing cobweb thin branches across the walls. The multi paned windows that trace into the darkness of the indigo blue puddles.
Out of the darkness bright colours emerge, lime green, strawberry red, cerulean blue. All pick out small details. The darkness is marked by frantic scribbles, adding depth to what could easily be a flat black void.
The police boat in the foreground is clearly defined, but the colour fuses with a background, as the jetty and walkway behind rise up to the North Bank of the Thames. The tidal nature brought home by the large black beans and supports which allow the pontoon and Footbridge to rise and fall with the tides. Heavy and solid the tracery below the side rails picks out a mesh pattern that lightens the darkness and leads the viewer to top right. Here, a lantern light is suspended above the path on an arched Beam. The word 'POLICE' is distinctly marked in white capitals on the side of the boat. The sign on the jetty is more blurred.
Behind is a purple sky and leafless trees of winter. The water is rippling but calm, dark and unreflective.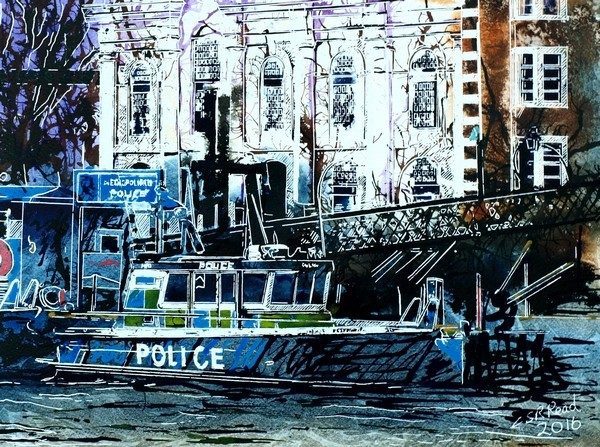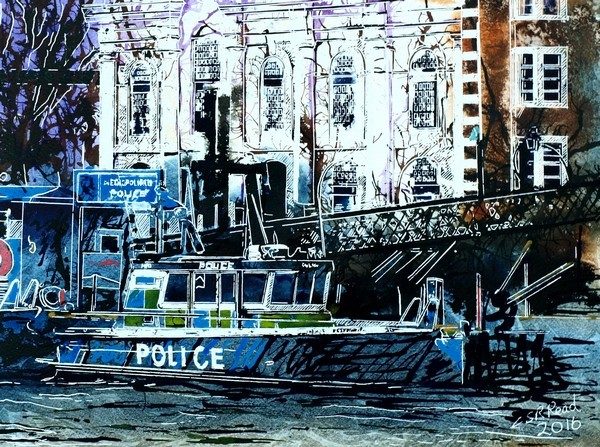 ---
Police Boat is part of my solo exhibition, on now at The Stables at Claydon Estate.