Hidden in the Clouds
You notice the sky with this London Painting. Dark and ominous, with hints of white that only emphasize just how dark that sky is. You can't see the rain but you know it's coming. Within the cloud you can make out a few lines to indicate where the Shard is. They could easily have been left over, a mistake that was left in place. As you drop below the clouds the tower and surrounding buildings are clear but gloomy. Everything speaks of a miserable wet day.
The dark mass of people walking along fuse together. You can make out on umbrellas and the odd head or arm but the mass is moving as one. People and brollies are another staple of the average London painting.
In front, the wall constrains them into a funnel as they pass the steps down to the Underground. Its sign's the only bright spot on the horizon. Perhaps an invitation to come into the dry form out of the wet streets.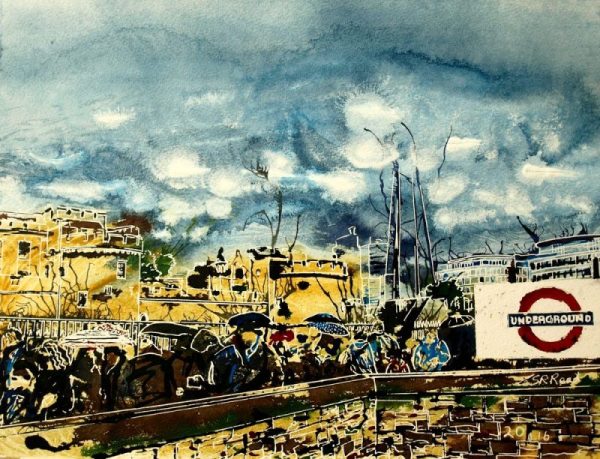 Maybe not the first choice but any port in a storm as the saying goes. Unlike most of my London paintings, this one looks across at eye level. It's hard to look up when everything above head height is veiled in cloud.
---
Hidden in the Clouds is part of my London Series. You can see more here