St Paul's Cathedral stands centre stage, glowing white marble in the sunlight as it's pale though is defined by a lavender Sky. This begins our journey through Millennium Bridge life. The waves of colour rippled by light clouds, textures, like white lichen, floating in the atmosphere. The colours are cool but this is not a cool day.
The sun casts long shadows on the bridge, defining the geometric features in a grid-like pattern on the pavement. A slope that leads under the Bridge to the Thames itself. A dark area with hints of life that are difficult to discern. People vanishing on their journeys along the Southbank
The bridge itself is contemporary structure of clean lines and angles. All shining glass and steel, its surface is reflecting the sunlight and movement around. And there's plenty of movement on this Bridge. The walkway is teaming with masses of people. Tourists, visitors, people going to and from work. Shoppers, families or I hear. Moving en mass with a common goal to reach the other side
Some are intent on their destination, others gaze around taking in the scenery, still others are looking for something or someone.
On the North Bank you make out the river side architecture, offices with a sought  after river view. On the sky line, there are hints of other landmarks as well. St Paul's, the Cheese-grater.
The colours are cool blues and purples, light sky tones down to deep dark hues. Hints of cadmium red amidst the massing crowd. And the occasional glint of golden yellow peeks out and lifts the scene. A hint of the sun that is unseen but so evidently present. People wandering around in shirtsleeves, carting their belongings. The day has obviously started out cool but now people divest themselves of these unnecessary layers to enjoy the warmth.
And feel glad to be alive!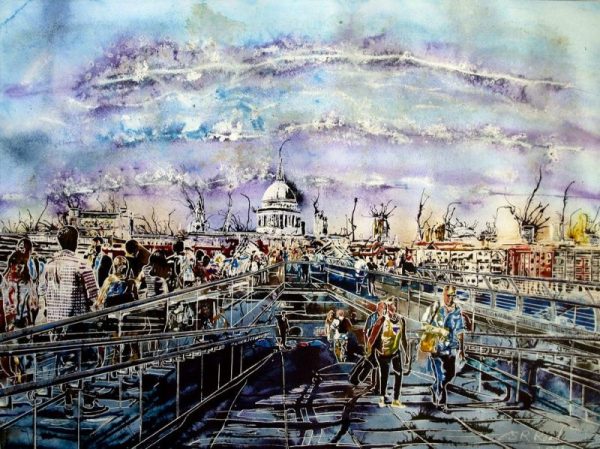 ---
Millennium Bridge Life was part of my solo exhibition now on at Claydon Estate. Although the exhibition is now over, I'm working on the books which will contain all the meditations and images of the painting
If you would like me to tell you when the book is ready? Let me know in the form below.