The star of the Kings Cross Painting is that roof. Looking up at the station you can't ignore the way it stretches upwards. That vast expanse of glass and girders, fanning out like a net. Rising from the central buildings which house the offices. The roof dominates the painting, The concourse is a barely visible strip of booths right at the bottom of the image. Just visible are the heads of passengers, their presence lending a sense of scale to the roof towering overhead. The vertical wall of the station offices bearing the weight of all that steel and glass.
The colours in the Kings Cross painting are muted and give a sense of mechanical engineering. Steel blues, oily browns and blacks. A few hints of colour on booths and signs, designed to draw your attention. A raised concourse on the right conveys a crowd of people, frozen in time. Are they moving or looking to the concourse below to find friends and family?
As with all stations, journeys begin and end here. Or rather, people pass through on their way between their homes and destinations. Sometimes we get stuck on the way. At these times, I always think it's fun to imagine where people are going and why.
The possibilities are endless if you let your imagination flow.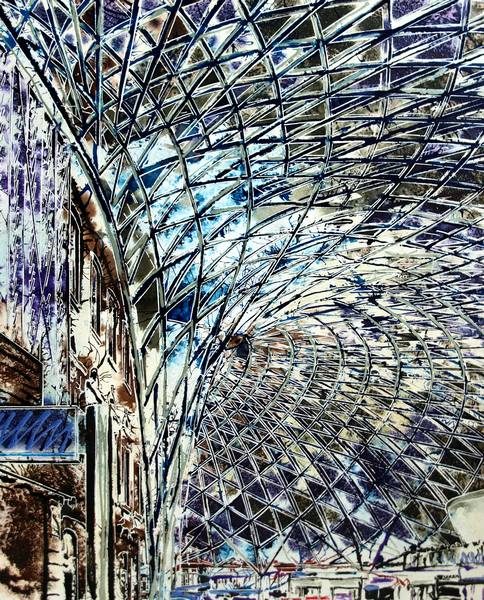 ---
Kings Cross is ene of my London Paintings. You can see more in the link below.