Good night Thames
What do I see? I see colours, glorious colours . The painting is bathed in an orange glow but there is a darkness. Appearing black at first but, just like the night-time, your eyes adjust and allow you to see in the darkness . Not black but very dark purple/blue with a fluid line of black zig-zagging its way down the image. The cosmic sky grabs your attention as orange blends into indigo, inky swathes of cobalt. A hint of magenta, pale yellow and blues bespeckled with tiny starlight. Star-like crystals creating a mottled moving sky.
Then you look for the familiar. The Thames is recognisable, as you see the London Eye in a reverse silhouette and the suggestion of Big Ben on the right . The festooned lights and trees mark the course of the embankment, bringing your attention to the ships in the foreground. Your eyes are drawn on a course from the Eye, across Westminster bridge, along the embankment to the boats.
How many are there? It's difficult to tell as images merge into one another and into the dark inky waters, speckled with light and so many colours.
The picture is an a state of constant movement which forces your eyes to dance around the painting. Drinking in the atmosphere as you continue across the bridge down to the embankment to join the shadowy figures standing there.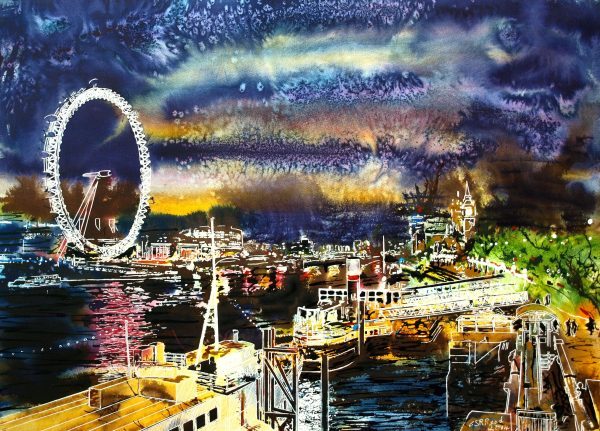 ---
Goodnight Thames is one of my London Series Paintings. You can see more here.