What do you see when you look at this Painting of St Paul's Cathedral?
The image is not so much a snapshot in time. It's conveys more of a the passing of time. Some areas are clear and sharp, like the painting of St Paul's Cathedral itself and the cycle marks on the road in the foreground. But most of the picture is textures and blurs as Traffic speeds on its way between the phases of the traffic lights. The blue car waits at the Red.
The evening is clear and the sun is setting after a period of heavy rain The wet roads reflecting the sky and street-lights in that rippled fashion characteristic of moving cars causing frequent disturbances in puddles. Night is drawing in but, like many cities London, is never fully dark at night. From humble street and vehicle lights to the spotlights proudly defining St Paul's Cathedral, illumination is everywhere. Dark masses of trees obscure large areas but cannot fully cancel the brightness.
Notice the couple in the centre walking towards you? Perhaps having just stopped off at the red bus disappearing to the left. behind the foliage. Greenery that nearly dwarfs St Paul's. The foreground is calm – nothing to see here. A sign marking the cycle route and for traffic to give way.
Pause and watch London life hurtles past and there and then it's gone in an instant. Only to be replaces as something new and equally fascinating catches your attention.
London changes but remains the same…
Busy, bustling and bright!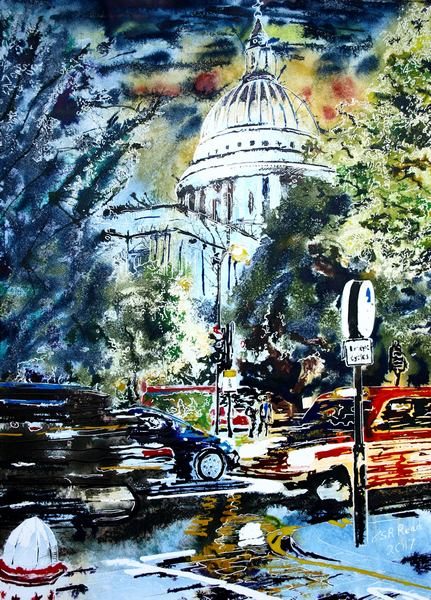 ---
St Paul's at Night is available for sale.