Latest in a series of meditations I'm creating about my art ready for the exhibition in October.
Trafalgar fountain meditations
First look at the Trafalgar Fountain painting above. What do you see?
The Fountain and it's pool dominate beneath the crumpled sky. Fine Lines, emanating from the dark crumpled area. They reach out to touch the church tower in the background. St Martin in the Fields.
There are people milling around behind the fountain chatting, eating ice creams and taking in the sights. The colours are reflected into dappled blocks, extending down into the rippled pool. They seem to continue forever, beyond the bottom edge of the page.
Look closely and you can see the textures as paint is layered in places and merges with other colours. The palette for the painting is muted but there are hints of dark red and magenta in the central figures and bus.
The sculptures are absorbed into the scene, present but lost in the colours and Lines. The lines themselves run the gamut from ordered geometric structures to rippling water and everything in between.
What can you see in the reflections?
Imagine you are there, the sun, warm on your back. The water cool, and people are talking, laughing, enjoying the day. The pigeons walking about. Occasionally flapping wings, as a child runs towards them, or they see someone with a sandwich and descend, hopeful of some crumbs, or more.
Nelson's column towers behind you, but that's not important now, just enjoy the scene.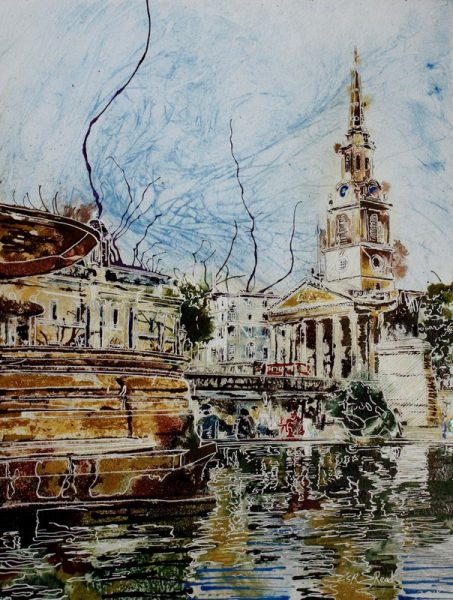 ---
Trafalgar Fountain is one of my London Series. You can see more here.



.