Part of the 49/50 Painting Challenge.
Latest New Art is a Handrail but why's the subject close to my heart?
You may be aware that I was an occupational therapist before I followed my artistic dream. I spent a large proportion of my early career working with the elderly who needed help and support at home, for various health reasons.

One of my roles was to ensure they were safe at home.
Advising on the location of handrails was a major part of this process. Some families would object to the rails being added, sometimes it was denial, but often if was that the ones we provided were just plain ugly. I quickly learned that there were "Reliant Robin rails" and there were "Rolls Royce Rails" and you couldn't always tell who would go for which. Oh I could write several posts about handrails, optimum angles, grip surface etc, but I won't bore you with those. The people were always the most interesting part.

And usually the people we dealt with were real Characters.
One frail octogenarian couple requested help for various things and specifically rails by the bath. Both were very unsteady on their feet so a visit was arranged The visit went well, until it came time to establishing where the rails were needed by the bath. (It varies due to height strength etc). It transpired they didn't actually need rails for bathing. Oh no, they could get in and out just fine!
But they wanted rails to hold onto when they washed the hearth rug. It was too large for the washing machine, so they put it in the bath. Then either the frail husband or wife would stand up in the soapy water to trample it to get it clean. It was, I quote,
"A bit slippy so they needed something to hold onto".

We suggested they use a laundry service and avoided eye contact with anyone until we'd left.

Back to the 49/50 Challenge.
Lots of choice again this week's new art creation, from the elaborate to the functional.
This handrail's a shade between, and is found near the Old Gaol in Market Square.
Here's the work in progress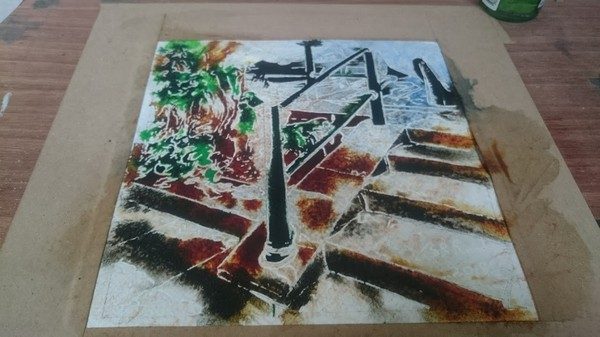 And the finished painting.