Part of the 49/50 Painting Challenge.
Presenting painting 8 – Door Handle.
This week was another hard one to choose. Simply put, there are so many to choose from. Should I look for something expensive and ornate or the opposite end of the spectrum of worn and rusty.
I veered towards the latter.
This door handle is on one of the cottages on Well Street.
It looks to have been there a very long time.
Maybe even from when they were built and, as parts of Well street date back to Georgian times, that could be a very long time. There are a few of a similar style in the street. The worn appearance was what attracted me to this particular one. That and…
The latch appears to have been created using hexagonal bolts!
Using bolts as a latch, reminds me of the old Boris Karlof Frankenstein look. Pretty cool looking. I did wonder whther it's a bodged repair at first but there's another one further down. I really wanted to take a closer look, but you tend to cause concern if you spend too long gazing at door furniture. So I took a quick photo and moved along.
Here we have the completed painting.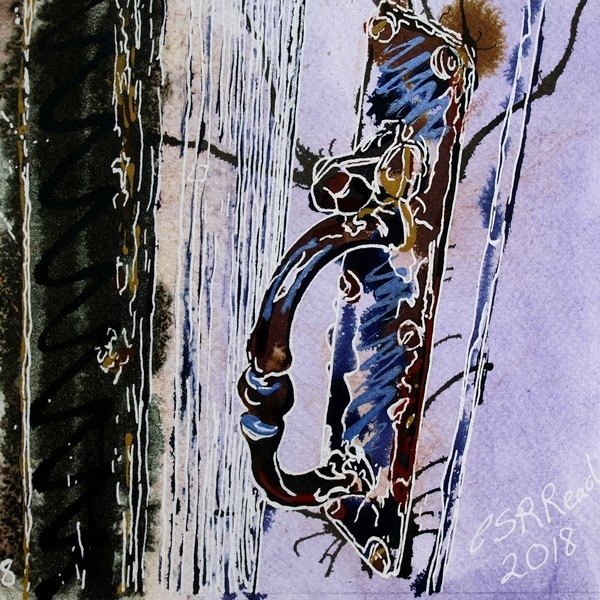 My next painting is a Balcony,
and I have the image all sorted for that one.
Apparently it's a "Juliet Balcony" –
I feel a Shakepearian sonnet coming on. Parting is such sweet sorrow…
And I forget the rest, so until next time,
Adieu!