What should Contemporary Painting focus on?
Have you ever wondered what Contemporary art is?
Abstracts?
Surreal Portraits?
Contemporary Architecture?
Most of mine focus on the latter, but what about historic buildings and features?
Do they still count?
I often wonder, especially if I have a subject that could have been painted 100 years ago.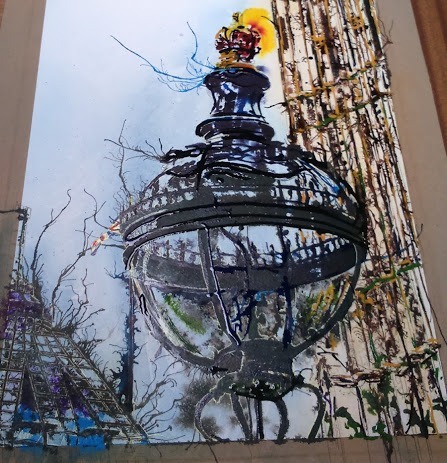 Truth is, there's no rule that says contemporary painting should be of a certain subject matter.
Tate modern's website adds a note on quality
"The term contemporary art is loosely used to refer to art of the present day and of the relatively recent past, of an innovatory or avant-garde nature."
Personally, I like the addition of innovation. Artists who create new ideas and styles are exciting. If you see lots of similar work, or copies of these original ideas it can become dull. Being drawn to contemporary subjects, I find contemporary art exiting. I love antiques but contemporary works are the antiques of the future.
That's not to say all contemporary painting is good.
Far from it, all genres have good and bad within them, but, like with music, there will be some art that transcends the genre and is appreciated by all. Art created to reflect the here and now will date, but it will reflect the mood of the present. In 20, 30 years time we will see a distinct style, but today it's harder to define.
There is a danger of seeing an unreal world in historic art.
The act of drawing or painting a subject can render it more beautiful than reality. The past was not clean and shiny like a 1950's TV show. Everything was not immaculately kept. Life was rough around the edges, and so is today. Showing the flaws bestows a sense of humanity. Things feel more normal. The everyday now, not some idyllic memory of yesteryear. The goal of the Contemporary artist is to reflect this.
When I paint historic architecture, recording its current state matters.
Perhaps a hint of former glory, or a chance distortion of it's original intention. I chose this light because of the shape and the grimy nature of the lower glass.
There was a danger that I might move into the twee so I included Portcullis House in the background.
The finished painting is not very grimy though.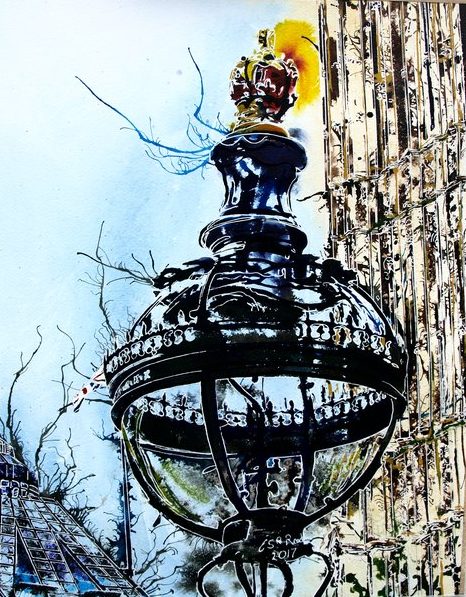 I shall continue on my quest.
So, what do you think defines a Contemporary Painting?
Let me know in the comments.
Save
Save
Save
Save
Save
Save
Save
Save
Save
Save
Save
Save